Source: Apple | Posted By: Dan Geer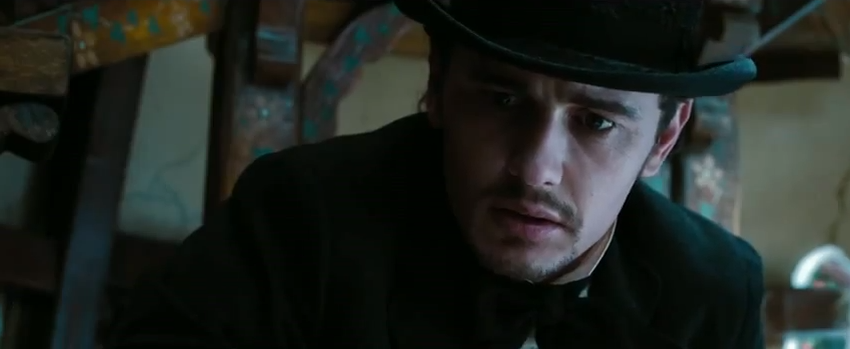 Yesterday we got a decent behind-the-scenes look at Disney's Oz the Great and Powerful via ET Online, as well as an announcement that the trailer would be arriving today at San Diego Comic-Con. The trailer is now online as well, so without further ado, let's get right to it, shall we? Hit the jump to check out the trailer for director Sam Raimi's latest film, courtesy of Apple!
Update: Full Comic-Con panel for the film now included below!
Official Synopsis:
"Oz the Great and Powerful" imagines the origins of L. Frank Baum's beloved character, the Wizard of Oz. When Oscar Diggs (James Franco), a small-time circus magician with dubious ethics, is hurled away from dusty Kansas to the vibrant Land of Oz, he thinks he's hit the jackpot—fame and fortune are his for the taking—that is until he meets three witches, Theodora (Mila Kunis), Evanora (Rachel Weisz) and Glinda (Michelle Williams), who are not convinced he is the great wizard everyone's been expecting. Reluctantly drawn into the epic problems facing the Land of Oz and its inhabitants, Oscar must find out who is good and who is evil before it is too late. Putting his magical arts to use through illusion, ingenuity—and even a bit of wizardry—Oscar transforms himself not only into the great and powerful Wizard of Oz but into a better man as well.
Head on over to Apple to watch in HD!
So far, so good in my book. Definitely appears like they are going for that Alice in Wonderland feel (the film is, after all, from the producers of Tim Burton's 2010 film adaptation), which can totally work for Oz. It looks quite cheery and colorful, much like the original 1939 Wizard of Oz film, but of course the trailer also gives us the sense that not everything is as wonderful as it seems, with evil lurking just around the corner (and clawing at tables, apparently). Very cool. In fact, this looks better than Alice in Wonderland by leaps and bounds.
What do you guys think?
Update: For those of you who are interested, here is the full San Diego Comic-Con Panel for Oz the Great and Powerful!
Oz the Great and Powerful, directed by Sam Raimi, stars James Franco, Rachel Weisz, Mila Kunis, Michelle Williams, Zach Braff, Abigail Spencer, and Joey King. It is slated to hit theaters March 8, 2013.
Related Articles