Source: Collider | Posted By: Dan Geer

Tidbits for Disney's Oz the Great and Powerful have been scarce as of late, but things are now starting to kick into gear for The Wizard of Oz prequel, due to the film's upcoming preview panel at San Diego Comic-Con. While we can be quite confident that a teaser trailer for the Sam Raimi-directed film will hit theaters some time in the near future, today Disney has debuted the first teaser poster for the film to hold us over until then.
Most of the time, teaser posters really aren't anything special, but this particular one actually stands out and is quite artistic to say the least. It really gives us a good glimpse into the eye-popping fantasy world we have yet to fully experience in the film – just enough to keep us intrigued. Hit the jump to read the official synopsis of the film and to see the teaser poster in full!
Official Synopsis:
"Oz the Great and Powerful" imagines the origins of L. Frank Baum's beloved character, the Wizard of Oz. When Oscar Diggs (James Franco), a small-time circus magician with dubious ethics, is hurled away from dusty Kansas to the vibrant Land of Oz, he thinks he's hit the jackpot—fame and fortune are his for the taking—that is until he meets three witches, Theodora (Mila Kunis), Evanora (Rachel Weisz) and Glinda (Michelle Williams), who are not convinced he is the great wizard everyone's been expecting. Reluctantly drawn into the epic problems facing the Land of Oz and its inhabitants, Oscar must find out who is good and who is evil before it is too late. Putting his magical arts to use through illusion, ingenuity—and even a bit of wizardry—Oscar transforms himself not only into the great and powerful Wizard of Oz but into a better man as well.
Click image to view in full: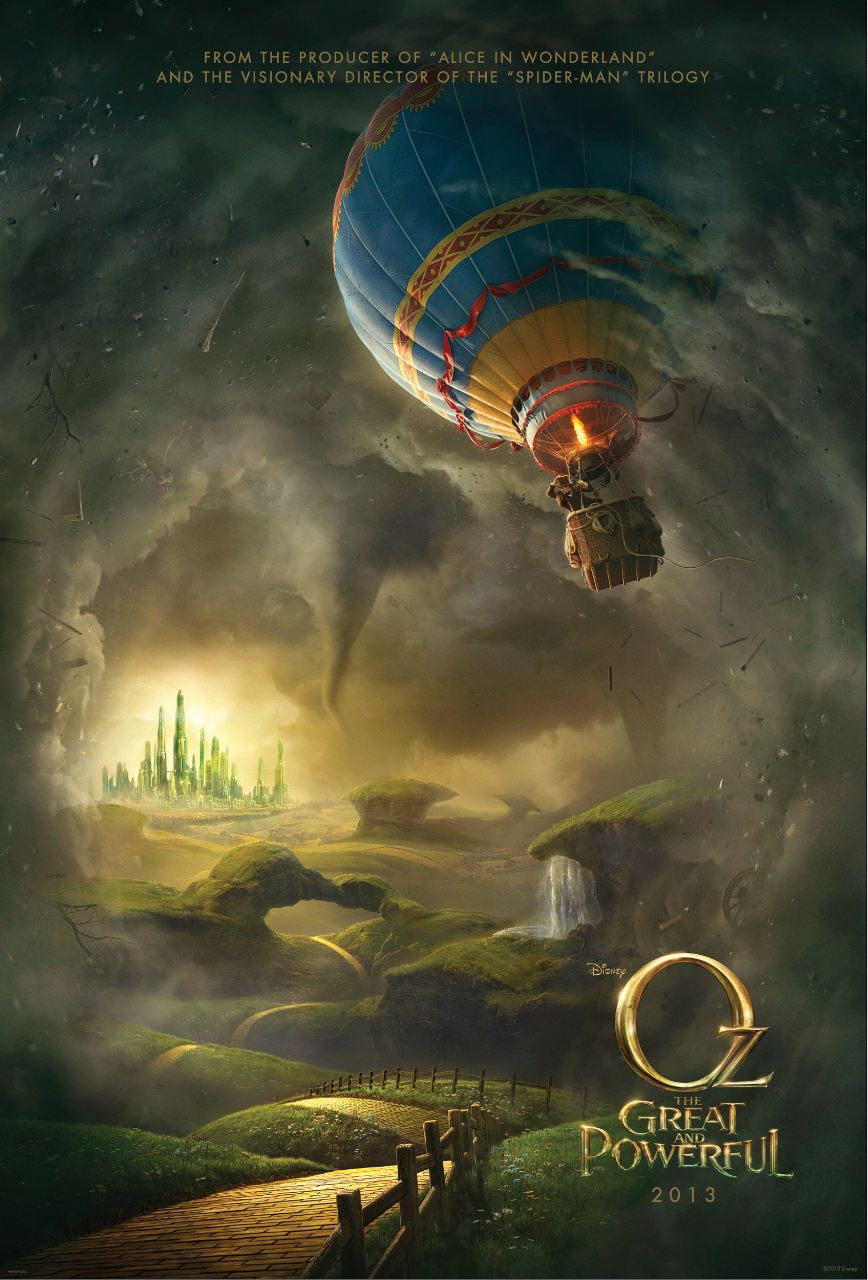 Anyone else think this particular image looks like a cross between Hobbiton and Rivendale from The Lord of the Rings? That's a good thing, by the way…
Hopefully the film is as good as the poster looks!
Oz the Great and Powerful, directed by Sam Raimi, stars James Franco, Rachel Weisz, Mila Kunis, Michelle Williams, Zach Braff, Abigail Spencer, and Joey King. It is slated to hit theaters March 8, 2013.
Related Articles