Source: IGN | Yahoo! Movies | Posted By: Dan Geer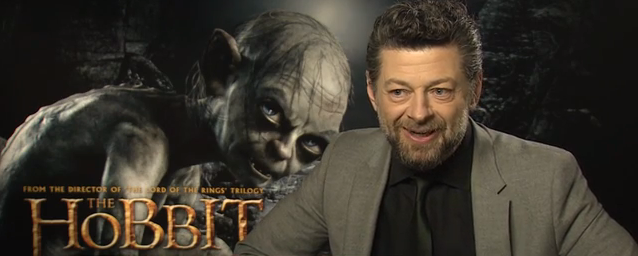 Two new featurettes have made their way online for The Hobbit Trilogy. The first comes from IGN, in which Andy Serkis (Gollum), James Nesbitt (Bofur), and Richard Armitage (Thorin) discuss what they know about the dragon Smaug. It isn't much, but Serkis does go into detail about what it takes to perfect the art of motion capture, which will be used to create Smaug through the performance of actor Benedict Cumberbatch, and Nesbitt expects that it will "blow people away." Armitage even claims to have begged to see more of the dragon, since his character would have seen more of it than the rest of his company of dwarves, but of course his pleading didn't work. Smaug is completely under lock and key, even to the actors.
The second featurette comes from Yahoo! Movies, and puts the three actors on the spot regarding the long running time of the first film, An Unexpected Journey, which some critics had a difficult time with. While this particular featurette won't give fans the type of detailed response we can expect to get from the various documentaries that will most likely be included with the upcoming extended edition release of the film due out later this year, it does touch briefly upon why one book had to be split into three parts, and that by the time we get to the climax of the trilogy (the Battle of the Five Armies in There and Back Again), we will realize that it was well worth it to take the time to develop the characters in the first film. I, for one, had no problem with the running time, so there needn't be an explanation for me. But it is great that even the cast members have some idea why, and are willing to address it for those who don't quite understand.
Anyhow, check out both videos after the jump!