Source: The Mary Sue | Posted By: Dan Geer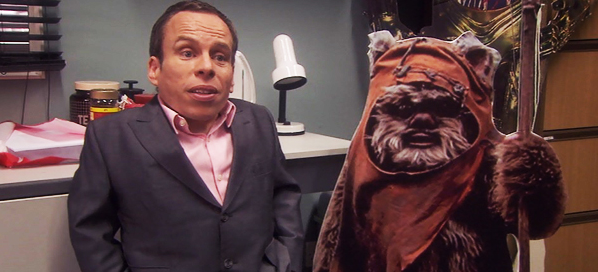 Say what you want about the ewoks, these furry little guys are among my very first memories of seeing a Star Wars film, and those memories are ones I'm quite fond of. I was three years old when I first saw Return of the Jedi in 1983, and even though I don't remember my first viewing that well, the star ewok character "Wicket" has always stuck with me. I even had a stuffed "Wicket" to snuggle every night before bed back then (awwwww…).
It has been confirmed for a while now that Warwick Davis, the actor who played Wicket, will indeed return for Star Wars: Episode VII – The Force Awakens, but we haven't been told yet who his character will be. Since Return of the Jedi, he has already returned to the franchise for The Phantom Menace back in 1999, playing two different characters (Anakin's little Rodian friend "Wald," and a spectator at the Pod Race). So it wasn't necessarily a given that he was returning as Wicket, or even a new ewok character.
Well, new evidence has come forth that suggests that Davis will indeed be returning as "Wicket." While not confirmed, and should be taken with a grain of salt, this rumor is simply too good to ignore, so read on for more!