Source: FOX | New York Times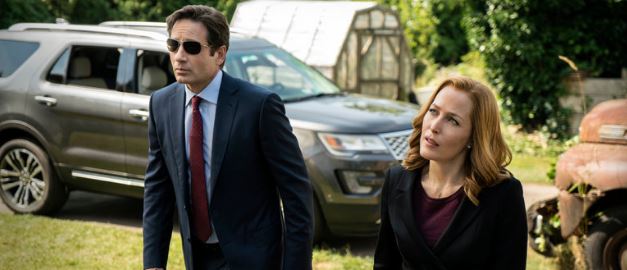 FINALLY! After over a year of waiting, the Fox network has officially announced that 10 more episodes of the hit television series The X-Files have been ordered, and will air during the 2017-2018 TV season, with production beginning this summer (we probably should've taken the hint with the recent audio drama announcement that things were afoot)! Read on for the official press release and more!
Via FOX:
"THE X-FILES" RETURNS TO FOX
​FOR 10-EPISODE SECOND INSTALLMENT OF EVENT SERIES


FOX has ordered a second chapter of THE X-FILES event series. The all-new 10-episode installment once again will be executive-produced by creator Chris Carter, with stars David Duchovny and Gillian Anderson returning in their roles as iconic FBI Agents Fox Mulder and Dana Scully. The event series will air during the 2017-2018 season. Production is set to begin in summer 2017.

"Iconic characters, rich storytelling, bold creators – these are the hallmarks of great TV shows. And they are some of the reasons why THE X-FILES has had such a profound impact on millions of fans worldwide," said David Madden, President, Fox Broadcasting Company. "Chris' creativity, along with the brilliant work of David and Gillian, continue to propel this pop culture phenomenon, and we can't wait to see what fresh mysteries Mulder and Scully uncover in this next chapter of THE X-FILES."

In 2016, THE X-FILES drew an average Multi-Platform audience of nearly 16 million viewers and was last season's No. 2 broadcast drama. It also was the season's most talked-about event series on Twitter.

THE X-FILES originally premiered in September 1993. Over the course of its nine-season run, the influential series went from breakout sci-fi favorite to massive global hit, and became one of the most successful television dramas of all time. The show, which earned 16 Emmy Awards, five Golden Globes and a Peabody Award, follows FBI special agents Scully (Anderson) and Mulder (Duchovny) as they investigate unexplained cases – "X-Files" – for which the only answers involve paranormal phenomena.
Produced by 20th Century Fox Television and Ten Thirteen Productions, THE X-FILES is created and executive-produced by Chris Carter. 
This of course is a much welcome announcement from fans all over the world who have been waiting since the closing moments of the latest "Event Series" (Season 10) early last year, where everyone seemed to be dying, including Agent Mulder, and a UFO appeared overhead, beaming a ray of light down upon Agent Scully. We will finally get answers (hopefully) as to what that ending meant and how the series can move forward from there.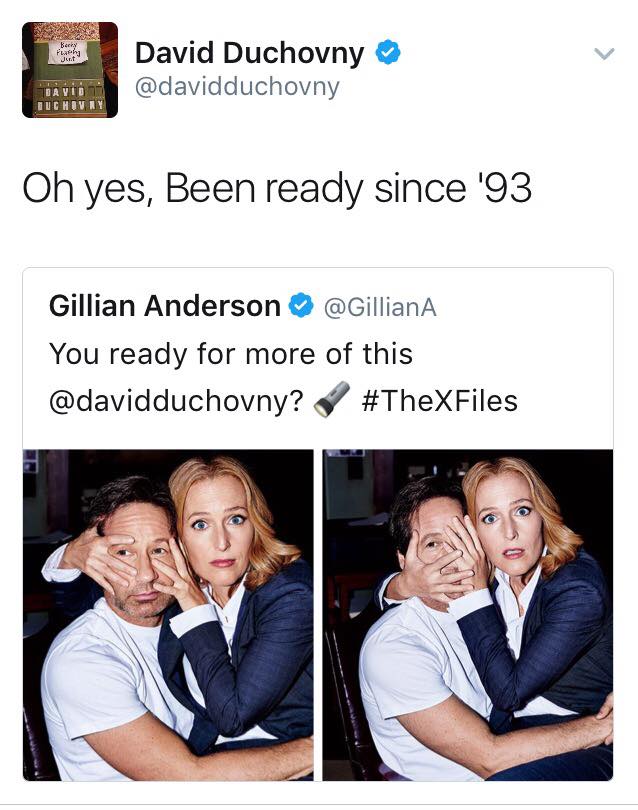 The mythology has gotten both very interesting and awfully convoluted since the previous season, so fans are anxiously awaiting things to be tied together a bit more evenly this time around. If they balance it out right, we should have enough episodes to address it all and still get some very cool standalone episodes (hopefully as great as "Mulder and Scully Meet the Were-Monster").
Just please, Chris Carter – please for the love of all that is good in this world, allow the new season to breathe and devote at least four episodes to the mythology. To be honest, Season 10 basically raised far more questions than it provided answers. Fans are very much in the dark! It was quite an interesting spin on what we thought we all knew from previous seasons, but let's be real here. Not enough time was spent on the mytharc and it didn't all blend well with the established story-line from Seasons 1-9 (at least on the surface). I'm sure it can, and Season 11 is the perfect opportunity to make it happen by shedding light on the events that occurred last season.
An official air date for the Season 11 premiere has yet to be revealed. Most likely it will not air until January 2018, since the previous season had great success during that time in 2016.
For more, check out the following articles:
Review: The X-Files Six-Episode Event Series
What The X-Files Season 11 Needs to Answer
Fight the Future: An Open Letter to X-Files Series Creator Chris Carter
Beginners Guide to The X-Files