Source: Entertainment Weekly | Posted By: Dan Geer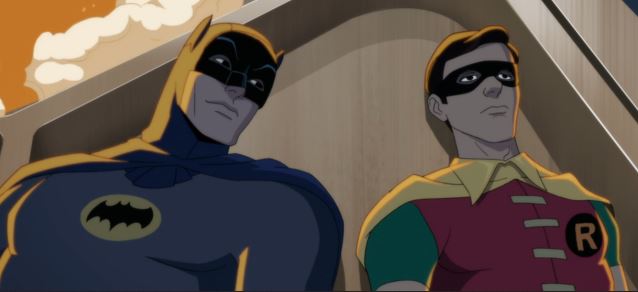 This year marks the 50th Anniversary of the original Batman TV series that debuted in 1966 starring Adam West and Burt Ward as the famed Caped Crusaders of Gotham City. So what better way to commemorate such a triumph than by releasing an all-new animated movie with West, Ward, and even Julie Newmar (Catwoman) reprising their roles from the original series?! I can't think of anything.
Entertainment Weekly has provided the first teaser trailer for the movie, which maintains the tongue-in-cheek vibe of the original live-action series, complete with over-the-top dialogue and a hilarious death trap for the Dynamic Duo to escape from. West and Ward do sound older (obviously), but they step right back into their roles as if it were yesterday. Check it out after the jump!
Official Synopsis:
It's back to the 1960s as Batman and Robin spring into action when Gotham City is threatened by a quartet of Batman's most fiendish foes – Penguin, The Joker, Riddler and Catwoman. The four Super-Villains have combined their wicked talents to hatch a plot so nefarious that the Dynamic Duo will need to go to outer space (and back) to foil their arch enemies and restore order in Gotham City. It's a truly fantastic adventure that will pit good against evil, good against good, evil against evil … and feature two words that exponentially raise the stakes for both sides: Replicator Ray. Holy Multiplication Tables!
Back in May, Adam West and Burt Ward attended Motor City Comic-Con in Novi, MI, where they let slip that they were involved in a big project that they weren't allowed to talk about yet. Pretty sure this is it!
Update 8/22: The latest FULL trailer has just been released from Warner Brothers! Check it out below…
Batman: Return of the Caped Crusaders hits Digital HD on October 11th and Blu-Ray November 1st!