Source: StarWars.com | Posted By: Dan Geer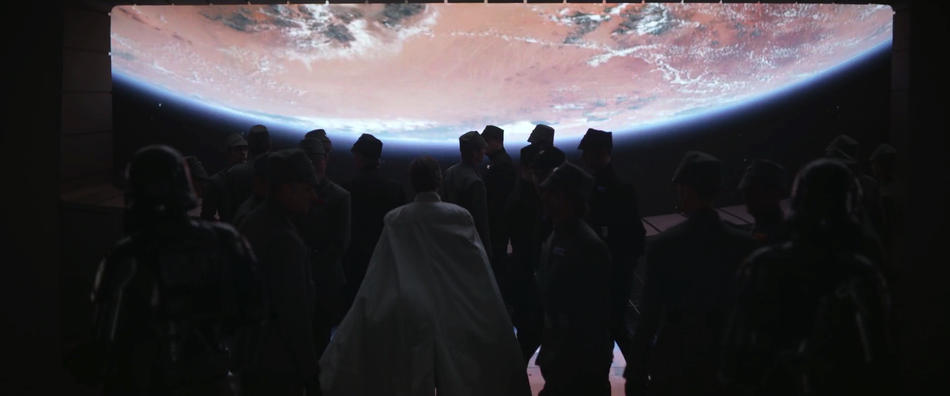 For the fans who couldn't attend Star Wars Celebration Europe this year that whined about not being able to view the Rogue One trailer that premiered exclusively for Celebration attendees there, at least they were able to view the latest public trailer that just debuted during the Olympics, right? Well, even if they missed it tonight, they can still watch it here. Can we all get along now?
This second trailer release packs all the punches and definitely shows us why we all should be looking forward to the first stand-alone live-action Star Wars movie. Rogue One really looks to be that fresh take on the Star Wars galaxy that we've all been dying to see. Check it out below!
Official Synopsis:
From Lucasfilm comes the first of the Star Wars standalone films, Rogue One: A Star Wars Story, an all-new epic adventure. In a time of conflict, a group of unlikely heroes band together on a mission to steal the plans to the Death Star, the Empire's ultimate weapon of destruction. This key event in the Star Wars timeline brings together ordinary people who choose to do extraordinary things, and in doing so, become part of something greater than themselves.

Rogue One: A Star Wars Story is directed by Gareth Edwards and stars Felicity Jones, Diego Luna, Ben Mendelsohn, Donnie Yen, Mads Mikkelsen, Alan Tudyk, Riz Ahmed, with Jiang Wen and Forest Whitaker. Kathleen Kennedy, Allison Shearmur and Simon Emanuel are producing, with John Knoll and Jason McGatlin serving as executive producers. Rogue One: A Star Wars Story opens in U.S. theaters on December 16, 2016.
This trailer knocked it out of the park and gave me goose bumps all the way through. But probably the loudest buzz that came out of Star Wars Celebration Europe was that there was actually a glimpse of the universe's most famous villain – Darth Vader in the footage that was screened there. Turns out he made his way online tonight for the rest of the world to see, and of course if you blinked you would miss it. Still, it was spectacular high note to end on.
His appearance in Rogue One: A Star Wars Story marks the first time in over a decade that Vader will make an appearance in a live-action Star Wars film. We all thought Revenge of the Sith would be our last time seeing Vader on the big screen, but thanks to Disney, we'll see him again. This is history in the making, folks.
Even though many fans are finding it tougher to get excited about this movie because it is not an actual part of the episodic Star Wars Saga so to speak, we really should be just as excited about this movie as we are for any of the episodes, if not more so (you did watch what I just watched, right?!!!) It is the first of its kind, and it will be able to take interesting and creative liberties that the Saga episodes cannot, as was pretty clear in this new trailer. This will indeed be a "gritty war film," with different camera techniques and ways of editing that will probably feel off at first. But that's the way it should be.
While this is indeed Star Wars, and will need to keep some signature Star Wars creative trademarks in tact – we should all look forward to seeing something different for a change. I, for one, think this is a great move on Disney's part, since it opens up a universe of possibilities for where Star Wars films can go now. It doesn't all have to feel exactly like what has come before. It just has to feel related. The stand-alone movies can be their own thing – and that's a good thing.
Rogue One: A Star Wars Story, directed by Gareth Edwards, premieres December 16th!