Source: Paramount Pictures | Posted By: Dan Geer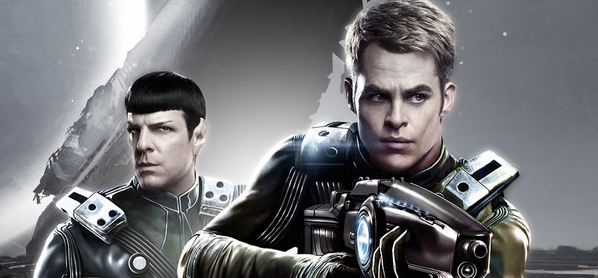 The onslaught of summer movie trailers just doesn't seem to end as of late. The BFG, Teenage Mutant Ninja Turtles: Out of the Shadows, X-Men: Apocalypse, Independence Day: Resurgence – all released within the last week (and don't forget the latest trailer for Batman V Superman that debuted only a few days before that)!
But now that the first trailer for Justin Lin's Star Trek Beyond has arrived, "Movie Trailer Week" has probably now come to a close, since most, if not all of these trailers will more than likely be playing with Star Wars: The Force Awakens this week. Check out the latest trailer for Star Trek Beyond after the jump!
Synopsis (via Wikipedia):
This time the USS Enterprise crew, led by Capt. Kirk alongside Spock, have been attacked by a powerful unstoppable wave of unknown aliens. They arrive at a new planet where they find themselves in conflict with a new ruthless enemy but also meet a beautiful female alien who helps them.
This definitely looks like the direction of newcomer Justin Lin will stay in line with the newer, more modern approach that director J.J. Abrams took with the first two films in the rebooted franchise. Fun characters, lots of suspense, action, and big special effects. And it was a nice touch to have "Sabotage" by Beasty Boys playing in the background, since little kid Kirk was playing that while dragging racing with himself over a cliff in the first film.
The potential is great for this film, now that the crew of the Starship Enterprise is finally boldly going where no one has gone before. They're now on their 5-year mission to explore strange new worlds. To seek out new life and… well you know. I really hope they take advantage of this big time, since the first two films were not yet able to get to this point until the very end of Star Trek Into Darkness.
Whatever the case, it looks like Summer 2016 is going to be a HUGE season for movies. Bring it on!
Star Trek Beyond – directed by Justin Lin and written by Roberto Orci and Star Wars Prequel Hater Simon Pegg – stars Chris Pine, Zachary Quinto, Karl Urban, Simon Pegg, Zoe Saldana, Anton Yelchin, John Cho, and Idris Elba. The film hits theaters July 22, 2016!