Source: 20th Century Fox| Posted By: Dan Geer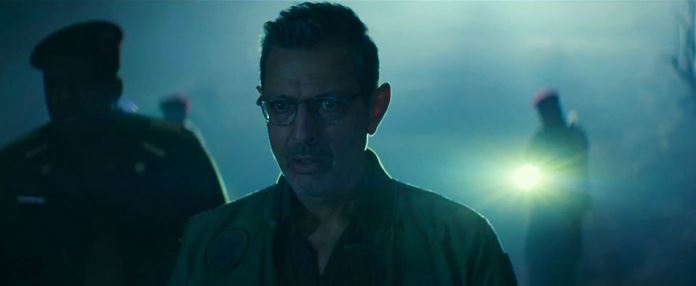 "We always knew they would come back." Or did we? Well, at least I never believed we'd actually get a sequel to the beloved 1996 hit Independence Day. But here we are, nearly twenty years later, getting our first look!
Independence Day: Resurgence reunites the original cast from the first film, minus Will Smith (although we do have a new actor, Jessie Usher, playing the son of Simth's character), and deals with the aftermath of the first film and what Earth has been up for the last twenty years. In a nutshell, Earth anticipated another alien attack might happen at some point, so we used alien technology to prepare for the inevitable. After all, you've got to figure there are more out there, and that they'd probably want revenge on the citizens of planet Earth for what happened in the first film. Simple enough.
Hit the jump to check out the first trailer for the film. It looks surprisingly great!
Official Synopsis:
We always knew they were coming back. After INDEPENDENCE DAY redefined the event movie genre, the next epic chapter delivers global spectacle on an unimaginable scale. Using recovered alien technology, the nations of Earth have collaborated on an immense defense program to protect the planet. But nothing can prepare us for the aliens' advanced and unprecedented force. Only the ingenuity of a few brave men and women can bring our world back from the brink of extinction.
For More, visit Warof1996.com
Do we need a sequel to Independence Day? No. Not a all. Do I care? No. Not at all! This looks absolutely fantastic! It is just great to see that so many of the original cast members returned for another go-around, and it looks like the sheer epic scope of the film will definitely rival that of the first film.
However, while I love how dark the trailer makes the film look, everyone is just so serious here. What I loved about the first film was how fun it was, particularly with the characters. Granted, the first movie had many serious moments as well, so we can only hope that the sequel will bring back the lightheartedness that the first movie brought to the table as well. Certainly having the original cast back should help, but hopefully the writers have come up with great material for the actors to have fun with. It wasn't just the grand visuals and action sequences that made it resonate with audiences. It was the whimsical tone infused into it all that really made it stand out.
I cannot believe that when Independence Day: Resurgence hits theaters next summer, it will be twenty years since the original was released. I was merely a 16-year old at the time, getting my first driver's license, and it was my favorite movie that summer. I'll be 36 when the aliens invade again. Incredible. Never thought this movie would happen, or that I would even want it to. But seeing this trailer, I just cannot help but get excited for this.
Independence Day: Resurgence, directed by Roland Emmerich, stars Bill Pullman, Jeff Goldblum, Judd Hirsch, Liam Hemsworth, Vivica A. Fox, Brent Spiner, Joey King, Maika Monroe, William Fichtner, Sela Ward, and Jessie Usher. The aliens invade theaters June 24, 2016!