Source: TMNT Movie | Posted By: Dan Geer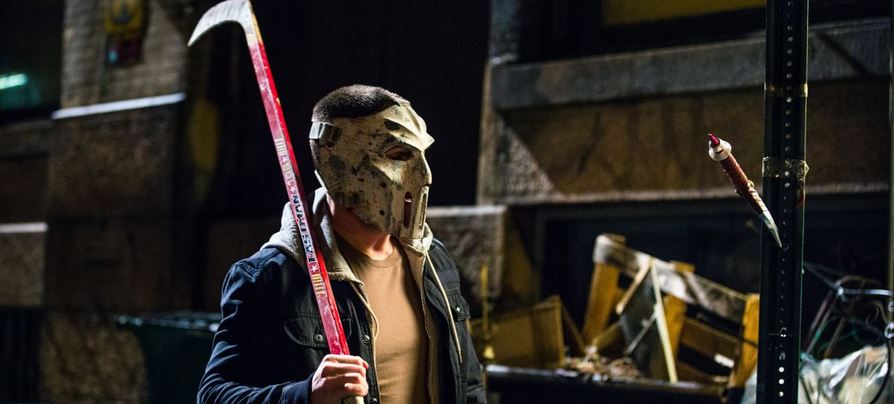 The first trailer for Teenage Mutant Ninja Turtles: Out of the Shadows has made its way online. This trailer really looks like it's going for the same vibe as the last film (which I enjoyed, although I was disappointed in the under-usage of Shredder), so if you're a fan of what director Jonathan Liebesman did with the first movie, odds are you'll love what Dave Green will do with the sequel, especially since a ton of fan favorites are making their debut here, including Casey Jones! Check it out below!
Synposis (via Wikipedia):
Leonardo, Raphael, Michalengelo, and Donatello face off against new threats and enemies in the form of: mechanical aliens, a mad scientist named Dr. Baxter Stockman, Bebop and Rocksteady. They also once again have to confront their greatest enemy, The Shredder, and his Foot Clan. The Turtles are equipped with the help of Vern, April and a new vigilante named Casey Jones.
Dr. Baxter! Bebop and Rocksteady! Casey Jones! What's not to love? This is exactly what I would have wanted to see when I was 11, when Teenage Mutant Ninja Turles 2: The Secret of the Ooze botched it up and created two mutants that should've been Bebop and Rocksteady, but weren't, for no reason at all. I'm also really looking forward to seeing Baxter mutate into his giant fly persona, as well as Casey Jones beating the crap out of bad guys with his hockey stick.
I'm not going to say, "This is going to be great!", because the last film left much to be desired. However, this looks like it'll be a vast improvement over the first movie, so I will be seeing this nonetheless. The Turtle fan in me will not be suppressed.
Teenage Mutant Ninja Turtles: Out of the Shadows, directed by Dave Green, stars Alan Ritchson, Noel Fisher, Johnny Knoxville, Jeremy Howard, Tony Shalhoub, Tyler Perry, Megan Fox, Stephen Amell, Brian Tee, William Fichtner, and Will Arnett. The film hits theaters June 3, 2016!