Source: StarWars.com| Posted By: Dan Geer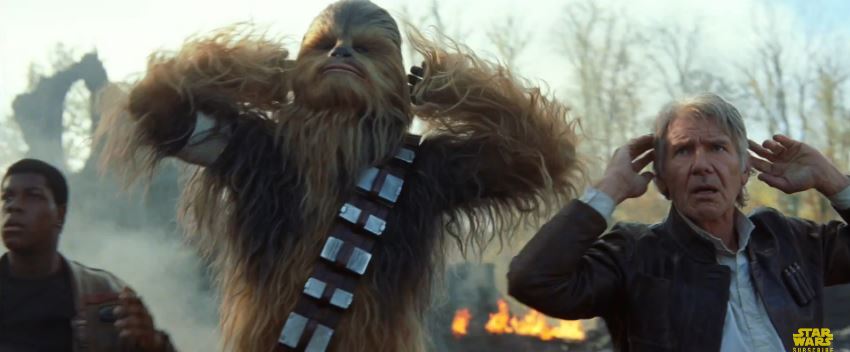 When the first short teaser for director J.J. Abrams' Star Wars: Episode VII – The Force Awakens hit the web last year on Black Friday, it practically broke the internet with fan speculation: "Why is John Boyega in that Storm Trooper armor?" "Why is he breathing so hard?" "Where is Daisy Ridley going on that speeder?" "What is up with that new lightsaber?" "Oh! The Millennium Falcon!" We had been craving to see this footage ever since Episodes VII-IX were announced in 2012, so anything we got to see was big news.
Then of course the second trailer that debuted at Star Wars Celebration in Anaheim, California last April took that wonderful teaser and stomped on it with even better footage that tugged all the right strings of wonder and nostalgia, and made grown men cry with our first look at Harrison Ford as Han Solo, uttering the words "Chewie, we're home."
So I've been asking myself how in the world this third trailer can top that. Not that I didn't believe it could, but I've been wondering for months what the next trailer could show us that that would just bring it home and send us all into utter Star Wars fanboy madness. Let's just say that, while nothing in this new trailer tops Han Solo's moment in the last trailer, this new one packs quite a punch, and gives us something on par with that moment…
The dialogue. It may not be as exciting as seeing Luke Skywalker – which the one thing they could have shown us that would have topped the last trailer – but we actually hear real dialogue from the new characters, as well as more from Han Solo (and wasn't it great to see him hug LEIA?!!!!), and it gives us some real insight into the plot without spoiling much at all. And I guarantee you that grown men were still crying after seeing this.
It is just such a great concept to think that these new characters are discovering for the first time what we as an audience have known for over 30 years: "It's true. All of it." The story contained within the original trilogy is legendary to the characters of Finn (Boyega) and Rey (Ridley), basically to the point where it has become merely a fairy tale. They're now discovering that both the Dark Side and the Jedi are real, opening up a universe of infinite possibilities for these characters.
And of course Kylo Ren's dialogue really tells us that he is definitely out to finish the work of Darth Vader. That's his purpose. Whether or not he actually intends to revive the Sith Order remains to be seen, although he is certainly utilizing The Force in some fashion.
Yes, a big part of me SO wanted to see Luke again, even if just for a split second. But deep down I knew they were going to hold off until we actually see the film in December. To be honest, this is for the best. The moment we first see Luke should be hands down the best part of the new film, and the only way to preserve that moment is by waiting until the movie is released.