Source: MTV | Posted By: Dan Geer

Part 1 of DC Comics' animated adaptation of Frank Miller's classic graphic novel, Batman: The Dark Knight Returns, only just arrived in stores everywhere a couple of weeks ago, and already we are getting the first trailer for Part 2, which is expected to arrive some time in the first quarter of 2013.
The trailer shows off a bit of Superman and Joker, voiced by Mark Valley and Michael Emerson, respectfully, and really gets into the action this time around. For those of you who enjoyed Part 1, hold onto your hats because it looks like the story and action are being taken up a few notches in Batman: The Dark Knight Return, Part 2, if this new trailer is any indication. Hit the jump to watch!
Official Synopsis:
…it's been a decade since Bruce Wayne hung up his cape, following most of the other superheroes who had been forced into retirement. Facing the downside of middle age, a restless Bruce Wayne pacifies his frustration with race cars and liquor – but the bat still beckons as he watches his city fall prey to gangs of barbaric criminals known as The Mutants.

The return of Harvey Dent as Two-Face finally prompts Wayne to once again don the Dark Knight's cowl, and his dramatic capture of the villain returns him to crime-fighting – simultaneously making him the target of law enforcement and the new hope for a desolate Gotham City. Particularly inspired is a teenage girl named Carrie, who adopts the persona of Robin and ultimately saves Batman from a brutal attack by the Mutant leader. Armed with a new sidekick, and re-energized with a definitive purpose, the Dark Knight returns to protect Gotham from foes new…and old.
Batman: The Dark Knight Returns, Part 2 is directed by Jay Oliva, written by Bob Goodman, and executive produced by Sam Register and Bruce Timm. Bruce Wayne/Batman is voiced by Peter Weller (Robocop, 24), and joining him are Wade Williams as Two-Face, David Selby as Commissioner Gordon, Ariel Winter as Robin, Mark Valley as Clark Kent/Superman, and Michael Emerson as Joker. The film hits store shelves some time in early 2013 on Blu-ray combo pack and DVD. It will also available for digital download.
Buy Batman: The Dark Knight Returns, Part 1 today!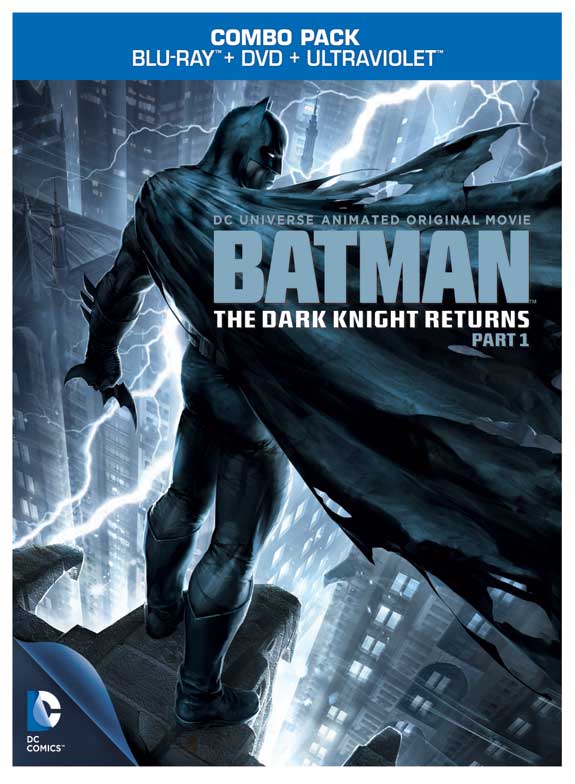 Related Articles