Source: Collider | Posted By: Dan Geer

Various clips from the upcoming Blu-ray release of Batman: The Dark Knight Returns, Part 1 have been making their way online to get Bat-fans excited for its September 25th debut. The trailer for Part 1 debuted this past July, and the first clip peeked its head out from the Bat Cave last week.
In the two-part adaptation of Frank Miller's classic 1986 graphic novel, Batman returns after a ten-year hiatus to take down both old and new criminals posing a threat to Gotham City, including a street gang called the Mutants. In this second clip from Part 1, the Mutant leader threatens Batman and Commissioner Gordon. Hit the jump to watch!
Official Synopsis:
…it's been a decade since Bruce Wayne hung up his cape, following most of the other superheroes who had been forced into retirement. Facing the downside of middle age, a restless Bruce Wayne pacifies his frustration with race cars and liquor – but the bat still beckons as he watches his city fall prey to gangs of barbaric criminals known as The Mutants.

The return of Harvey Dent as Two-Face finally prompts Wayne to once again don the Dark Knight's cowl, and his dramatic capture of the villain returns him to crime-fighting – simultaneously making him the target of law enforcement and the new hope for a desolate Gotham City. Particularly inspired is a teenage girl named Carrie, who adopts the persona of Robin and ultimately saves Batman from a brutal attack by the Mutant leader. Armed with a new sidekick, and re-energized with a definitive purpose, the Dark Knight returns to protect Gotham from foes new…and old.
Head on over to Collider to check out a few still shots from the movie!
Batman: The Dark Knight Returns, Part 1 is directed by Jay Oliva, written by Bob Goodman, and executive produced by Sam Register and Bruce Timm. Bruce Wayne/Batman is voiced by Peter Weller (Robocop, 24), and joining him are Wade Williams as Two-Face, David Selby as Commissioner Gordon, Ariel Winter as Robin and Michael McKean as Dr. Bartholomew Wolper. The film hits store shelves everywhere September 25th on Blu-ray combo pack and DVD. It will also be available for digital download.
Pre-order your copy today!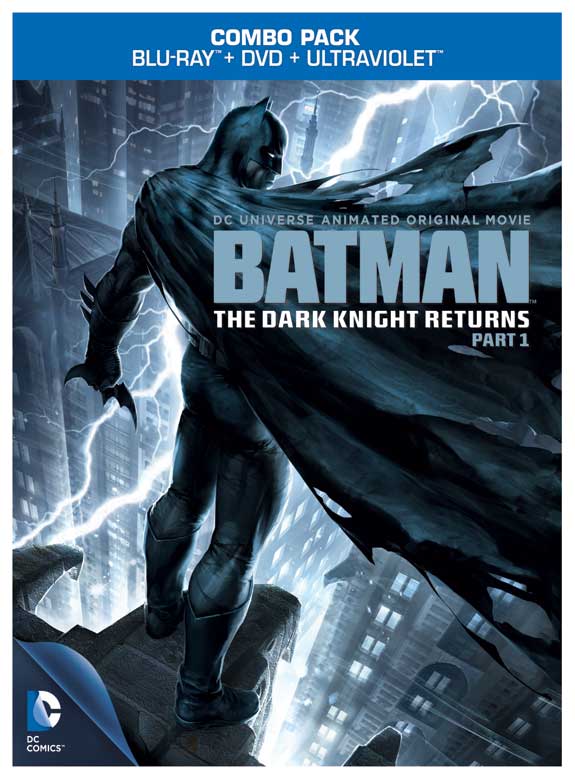 Related Articles