Source: MTV | Posted By: Dan Geer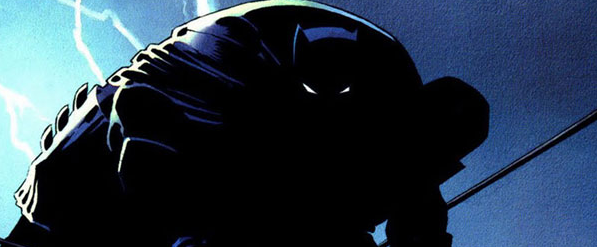 Frank Miller's Batman: The Dark Knight Returns is one of the most popular graphic novels in comic book history. When it first debuted in 1986, it redefined what could be done with the character, and took him to darker places than ever before.
Now, the highly-acclaimed graphic novel is being brought to life in a new two-part DC Comics animated film coming to blu-ray and DVD, with Part 1 arriving on September 25th. If you are unfamiliar with the story of Batman: The Dark Knight Returns, hit the jump to read the synopsis and view the first trailer for Part 1!
Synopsis for Batman: The Dark Knight Returns:
…it's been a decade since Bruce Wayne hung up his cape, following most of the other superheroes who had been forced into retirement. Facing the downside of middle age, a restless Bruce Wayne pacifies his frustration with race cars and liquor – but the bat still beckons as he watches his city fall prey to gangs of barbaric criminals known as The Mutants.

The return of Harvey Dent as Two-Face finally prompts Wayne to once again don the Dark Knight's cowl, and his dramatic capture of the villain returns him to crime-fighting – simultaneously making him the target of law enforcement and the new hope for a desolate Gotham City. Particularly inspired is a teenage girl named Carrie, who adopts the persona of Robin and ultimately saves Batman from a brutal attack by the Mutant leader. Armed with a new sidekick, and re-energized with a definitive purpose, the Dark Knight returns to protect Gotham from foes new…and old.
This looks absolutely great. I have read the graphic novel, and it definitely captures the look of the comic and seems to stick to the original story pretty closely. Of course, we won't know for sure just how great of an adaptation this is until both Parts are released, but it does look very promising. Can't wait to see it!
Now, if we could just get animated films for The Long Hallowen and Dark Victory…
Batman: The Dark Knight Returns is directed by Jay Oliva, written by Bob Goodman, and executive produced by Sam Register and Bruce Timm. Bruce Wayne/Batman is voiced by Peter Weller (Robocop, 24), and joining him are Wade Williams as Two-Face, David Selby as Commissioner Gordon, Ariel Winter as Robin and Michael McKean as Dr. Bartholomew Wolper. The film hits store shelves everywhere September 25th on Blu-ray combo pack and DVD. It will also be available for digital download.
Related Articles