Written By: Dan Geer

Ever since director Christopher Nolan's The Dark Knight blew everyone away back in 2008, creating an even more perfect film than its ground-breaking predecessor, Batman Begins, fans have not only been waiting with bated breath for the last four years to see the epic conclusion of Nolan's take on the Caped Crusader, but also with an extreme sense of uneasiness. Could Nolan take us to the next level and top The Dark Knight? Could we really have a perfect trilogy on our hands? The answer is, not quite, but pretty darn close.
Presumably due to the untimely death of actor Heath Ledger, The Dark Knight Rises wisely detaches itself from the overall story arc dealing with The Joker by having the film take place eight years after the events of The Dark Knight. The Joker was caught at the end of that film, most likely just left to rot away at Arkham Asylum, and our heroes have been given enough time to reach a new era in their lives where The Joker is no longer a topic of conversation, and Gotham City has reached a state of peace due to the Harvey Dent Act which essentially eradicated organized crime.
However, Commissioner Gordon (Gary Oldman) still has the cover-up of Harvey Dent's crimes weighing heavily on him, causing him to consider revealing the truth to the public. In addition, Bruce Wayne/Batman (Christian Bale), after taking the fall for Dent and being chased for a time by the police, has decided to hang up the cape and cowl after the death of his one true love, Rachel Dawes (played by Katie Holmes and Maggie Gyllenhaal in Batman Begins and The Dark Knight, respectively), and Gotham appeared to no longer need saving. But all of that changes when a new villain named Bane emerges to bring Gotham to its knees by attempting to destroy it from within via economics, and on a much grander, deadlier scale through vicious acts of terrorism.
The plot is actually a bit more complicated than the above summary, with a lot of wheels turning that involve a number of new key players, and is pretty much impossible to get into it any further without spoiling the entire film, so we'll just leave it at that. It is, however worth highlighting these new characters, as there are many great performances here, particularly with veterans of Christopher Nolan's Inception. Marion Cotillard rises to the challenge and meets it as a new love interest for Bruce Wayne named Miranda Tate, and Joseph Gordon-Levitt also landed the great role of detective John Blake, whose amazing heroics in the film essentially make him the unmasked version of Batman. Both actors bring much to the table, and will undoubtedly surprise audiences with their various roles in the story – although some might roll their eyes at certain aspects of these characters, particularly towards the end (I was not one of those people).
Of course, Tom Hardy is the standout Inception veteran in this film with his excellent portrayal of Bane. While he is not as humorous or fun as The Joker, his take on Bane is definitely one for the books and a worthy addition to the villains of Nolan's Dark Knight trilogy, in that he is much more deadly than any of the villains than have come before him. While The Joker was simply about laughing at unplanned chaos caused by his own antics, Bane is much more streamlined in his plots against Gotham, and is able to accomplish what previous villains only dreamed of. He is also the most physically challenging foe for Batman to face. Heath Ledger's performance as The Joker is a tough act to follow, and Hardy has definitely succeeded with flying colors, exceeding any expectations I had for him. The Joker will continue to be the most memorable villain of the trilogy, but Bane will surely be remembered and loved as much as Ra's Al Ghul, Two-Face, or The Scarecrow, if not more.
But I would be remiss if actress Anne Hathaway is not highlighted in this review. Out of all the characters in this film, cat burglar Selina Kyle, a.k.a. Catwoman (a character name that is wisely never vocalized in the film), is the one that steals the show. Personally, there has never been an onscreen portrayal of Catwoman than I have cared for, and Hathaway really shows us that the character can truly be brought to life in a way that is highly entertaining, and makes sense for Nolan's real-life depiction of the Batman universe. She's smart, stealthy, and we never really know whose side she is really on, which is what makes her character all the more interesting. Any worries fans had of Catwoman not fitting this world Nolan has created (or simply coming off incredibly cheesy like past incarnations of the character), can now be brushed aside. We can breathe that sigh of relief we've all been hoping to partake in ever since it was announced Catwoman would be in the film. For the first time, the character works, and works better than I ever could have imagined.
But, as was mentioned at the beginning of this review, the film did not exceed Nolan's masterpiece that is The Dark Knight. It really did come close, but the film suffers a bit from certain parts taking way longer than they should, which, in turn, take away screen time for the character of Batman. For being a Batman film, he is not in the movie nearly as much as most would like, which is a shame. The plot does allow for less screen time for Batman, as the story revolves more around his alter ego, Bruce Wayne, and his quest to find himself and reclaim his rightful place as the hero Gotham deserves. But it takes quite a bit of time to get to that point, and then events occur which make us have to go through it all over again (albeit, in a different manner entirely), taking longer than it does at the beginning of the film. The film is simply not as tight as its predecessors because of it. Christopher Nolan seems much more interested in his villains and supporting characters than he is with Batman, which is understandable, but not without error.
However, that is not to say that this film does not have a great story to tell, because it does. It is only to say that this is the first film in the series that should not be considered perfect. It is still a great film. Flawed, but nevertheless a worthy conclusion to The Dark Knight trilogy. When Batman is on screen, he demands the audience to cheer. He is just, to put it simply, the coolest comic book hero of all time, and Nolan has captured the character brilliantly in all three films, with a clear beginning, middle, and end to his story. There may never again be a Batman franchise, or comic-to-film adaptation in general for that matter, that comes close to the sheer epic quality of these films, and fans should be grateful that films like The Dark Knight Rises can get produced and distributed through Hollywood these days.
Rating:

(out of four)
Update: To add to this review, I did check this out at a 12:01 AM IMAX showing, and I have to agree with Nolan that seeing this film on IMAX is the best way to see this film. About a third of the film was shot in this format, and it definitely shows on screen, with stunning visual clarity that completely engulfs the viewer. Cinematographer Wally Pfister really knows the format and utilizes it to the fullest in The Dark Knight Rises. Couple this with IMAX's incredible sound capabilities, and you have one deeply immersive movie-going experience, the best you can ever have watching it. Do yourself a huge favor and check this film out at the biggest IMAX theater near you. You WILL NOT regret it.
Watch a 13-Minute Preview of The Dark Knight Rises (minor spoilers ahead):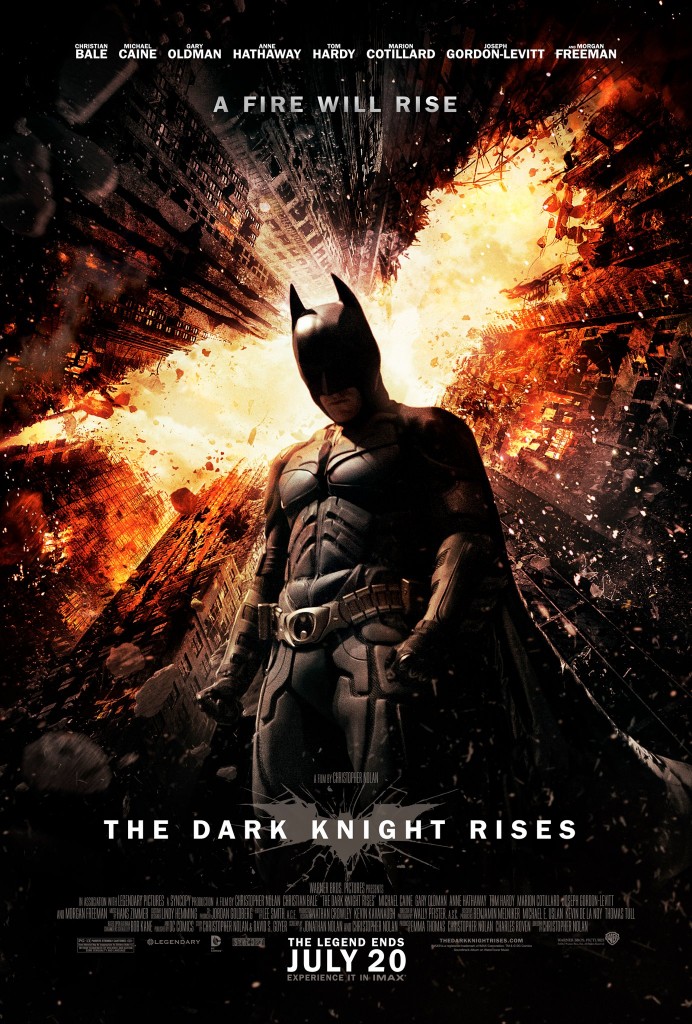 Related Articles