Source: Entertainment Weekly | ComingSoon.net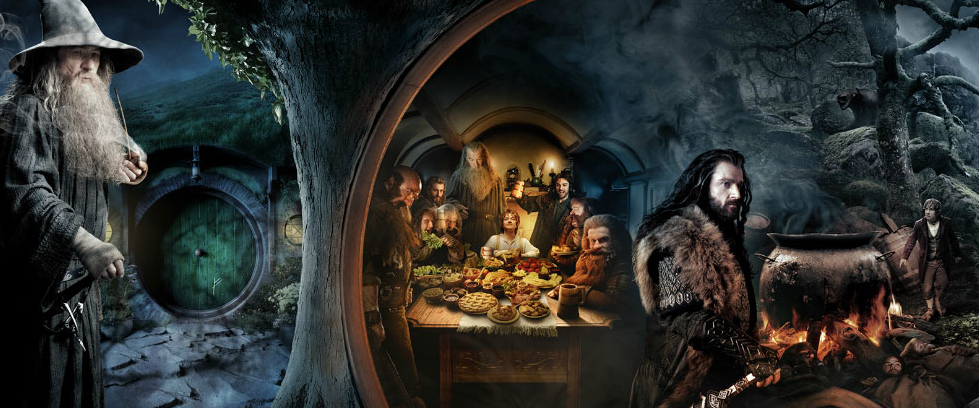 Warner Brothers and MGM have revealed an incredible banner over at Entertainment Weekly featuring 10 scenes from Peter Jackson's The Hobbit: An Unexpected Journey. Fans of J.R.R. Tolkien's book will recognize that the scenes move from left to right in chronological order, most likely hinting at how much of the story will be included in the film (the story will continue on in next year's The Hobbit: There and Back Again).
The above screen shot is not the entire banner. Hit the jump to view the full banner with more images of the dwarves, Galadriel, Elrond, Bilbo, Gollum, and even the character of Beorn (for those not in the know, it's the bear). Check it out now!
Of course, you can click the image below to zoom in:

Head on over to Entertainment Weekly to check out their magnifying glass feature, which allows you to take an even closer look at everything in the banner!
The Hobbit: An Unexpected Journey and The Hobbit: There and Back Again, both directed by Peter Jackson, are set for theatrical release on December 14, 2012 and December 13, 2013, respectively. The films star Martin Freeman, Cate Blanchett, Ian McKellen, Andy Serkis, Christopher Lee, Orlando Bloom, Richard Armitage, Ken Stott, Graham McTavish, William Kircher, James Nesbitt, Stephen Hunter, Aidan Turner, Peter Hambleton, John Callen, Jed Brophy, Mark Hadlow, Adam Brown, Ian Holm, Lee Pace, Dean O'Gorman, Elijah Wood, Evangeline Lilly, Barry Humphries and Benedict Cumberbatch.
Related Articles