Source: Entertainment Weekly | Posted By: Dan Geer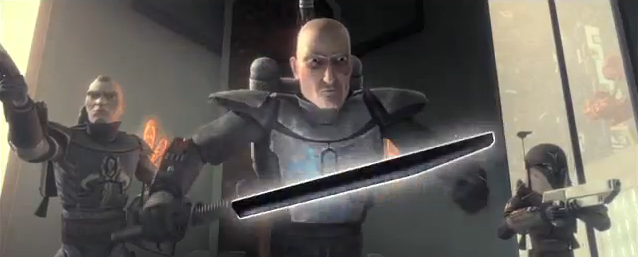 Last month saw the debut of a teaser trailer for season five of Cartoon Network's Star Wars: The Clone Wars, which teased more of Darth Maul, his brother Savage Opress, and the Mandalorian splinter group Death Watch. The new full-length trailer – which debuted recently at Disney Hollywood Studios' Star Wars Weekends and just yesterday online over at Entertainment Weekly – starts off showing us exactly what was in the teaser, but then gives us a whole lot more.
Not only does this trailer feature more of Maul and the Death Watch, but also reveals that planet Onderon from the Old Republic mythology will be featured as part of a major battle during the war. We also get to see more of the space pirate Hondo Ohnaka (who seems to have taken up a career in arms dealing), and, most of all, the trailer hints that The Clone Wars series will really be getting more into just how the Empire from the original Star Wars trilogy came to be – more than what was revealed in Revenge of the Sith. This is definitely the best trailer for the series as of yet. Hit the jump to watch!
Head on over to Entertainment Weekly for further information on season five of Star Wars: The Clone Wars!
Related Articles