Source: MSN | IGN | Posted By: Dan Geer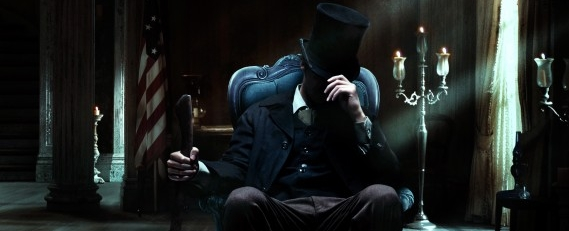 Two new trailers have popped up online in the last few days for director Timur Bekmambetov's Abraham Lincoln: Vampire Hunter, which hits theaters nationwide on June 22nd. One is a green band trailer focusing more on the character and heart of the film, and the other a red band trailer which, of course, highlights the film's blood and guts and apparent shear epic awesomeness. Both show just how entertaining this movie could be. Hit the jump to see these two new trailers for the film!
Official Synopsis:
Abraham Lincoln: Vampire Hunter explores the secret life of our greatest President, and the untold story that shaped our nation. Visionary filmmakers Tim Burton and Timur Bekmambetov (director of Wanted) bring a fresh and visceral voice to the blood-thirsty lore of the vampire, imagining Lincoln as history's greatest hunter of the undead.
Green Band Trailer:
Red Band Trailer:
Read more about Abraham Lincoln: Vampire Hunter in PopcornMonster.com's Top 10 Movies to See This Summer article!
Abraham Lincoln: Vampire Hunter, directed by Timur Bekmambetov and produced by Tim Burton, stars Benjamin Walker, Mary Elizabeth Winstead, Dominic Cooper, Alan Tudyk, and Rufus Sewell. The movie hits theaters nationwide June 22nd.
Related Articles