Source: ComingSoon.net | Posted By: Dan Geer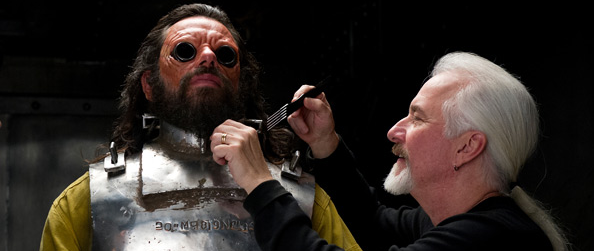 We're just a couple weeks away from the May 25th release of director Barry Sonnenfeld's Men in Black 3, and Sony Pictures is priming audiences with online behind-the-scenes featurettes for the film. Last week's featurette focused on Will Smith's character, "Agent J", and now a new one has been released highlighting the talents of legendary creature effects wizard Rick Baker and his contributions to MIB 3. Hit the jump to watch!
Official Plot Synopsis:
In Men in Black 3, Agents J (Will Smith) and K (Tommy Lee Jones) are back… in time. J has seen some inexplicable things in his 15 years with the Men in Black, but nothing, not even aliens, perplexes him as much as his wry, reticent partner. But when K's life and the fate of the planet are put at stake, Agent J will have to travel back in time to put things right. J discovers that there are secrets to the universe that K never told him — secrets that will reveal themselves as he teams up with the young Agent K (Josh Brolin) to save his partner, the agency , and the future of humankind.
Are you looking forward to Men in Black 3? Discuss your thoughts in the comments below!
Men in Black 3, directed by Barry Sonnenfeld, stars Will Smith, Tommy Lee Jones, Josh Brolin, Emma Thompson and Bill Hader. The film hits theaters in 3D May 25th!
Related Articles