Source: Batman News | Posted By: Dan Geer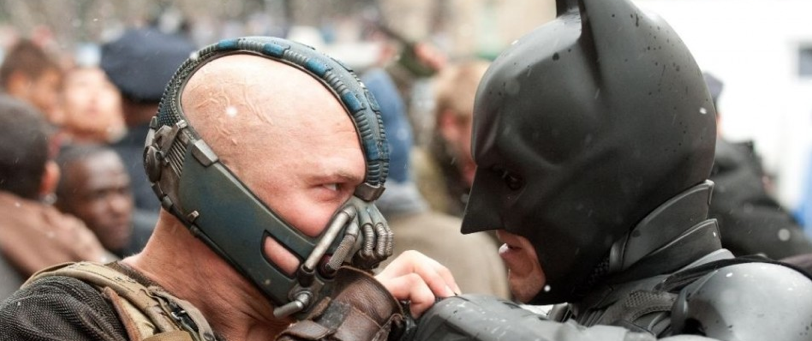 The official website for The Dark Knight Rises recently held a viral marketing game which lead to the revealing of the third and final trailer for the film last night. Let's just get right to it, shall we? Watch the latest, most epic trailer for the film after the jump!
Official Synopsis:
Warner Bros. Pictures' and Legendary Pictures' "The Dark Knight Rises" is the epic conclusion to filmmaker Christopher Nolan's Batman trilogy, Leading an all-star international cast, Oscar(R) winner Christian Bale ("The Fighter") again plays the dual role of Bruce Wayne/Batman. The film also stars Anne Hathaway, as Selina Kyle; Tom Hardy, as Bane; Oscar(R) winner Marion Cotillard ("La Vie en Rose"), as Miranda Tate; and Joseph Gordon-Levitt, as John Blake. Returning to the main cast, Oscar(R) winner Michael Caine ("The Cider House Rules") plays Alfred; Gary Oldman is Commissioner Gordon; and Oscar(R) winner Morgan Freeman ("Million Dollar Baby") reprises the role of Lucius Fox. The screenplay is written by Christopher Nolan and Jonathan Nolan, story by Christopher Nolan & David S. Goyer. The film is produced by Emma Thomas, Christopher Nolan and Charles Roven, who previously teamed on "Batman Begins" and the record-breaking blockbuster "The Dark Knight." The executive producers are Benjamin Melniker, Michael E. Uslan, Kevin De La Noy and Thomas Tull, with Jordan Goldberg serving as co-producer. The film is based upon characters appearing in comic books published by DC Comics. Batman was created by Bob Kane.
Share your thoughts on the trailer in the comments below!
After the previous trailer debuted, one of my biggest fears was Bane's dialogue, which was difficult to understand. People who had seen the IMAX prologue from the film, which showed different footage than what was in the trailer, seemed to feel the same way. The news got so big about Bane's voice that even Conan O'Brien made fun of it on his late night TBS show. To put it plainly, it was out of control, and fans feared the worst.
However, this new trailer puts all those fears to rest, as his voice is definitely quite easy to understand this time around. It still has that awesome effect to it, but the character's dialogue now comes through very clearly. It should be noted, however, that it has not yet been confirmed whether or not the creative team behind the film went back and cleaned it up, or if these new scenes in the latest trailer are just easier to understand than other scenes we've seen before. Either way, this new trailer should be taken as a good sign that Bane will be understood for the most part. Bat-fans are sure to love him.
As far as Catwoman goes, I am becoming more and more open to her being in this film. I have never been happy with any past portrayals of Catwoman on screen, so naturally it has been hard to envision a version of the character that would work for this franchise (the publicity photos didn't really help much either). Every version of the character in movies and TV has just been ridiculously silly, and those impressions constantly plague the minds of geeks around the globe. But the scenes shown here with Catwoman seem quite intriguing and different from anything we have seen before with other incarnations of the character.
She seems to actually fit the Nolan Batman universe – which really shouldn't be surprising, since Nolan would obviously attempt to make her fit in the first place. But who can blame geeks for not buying it at first after having suffered through what has come before? It is probably a fair bet that, even if people still don't care for having Catwoman in the movie after having seen it, Anne Hathaway will most likely still go down in film history for delivering the best performance of the character ever put to film. For the first time, it finally looks like the character of Catwoman has been taken seriously.
While I am still not convinced that this film will top, or even be as good as The Dark Knight, I am fully convinced at this point that the movie will truly be a fitting end to director Christopher Nolan's Batman trilogy. This looks absolutely great, and July 20th cannot come soon enough!
Catch the trailer on the big screen this weekend with The Avengers at a theater near you! Share your thoughts on the trailer in the comments below!
The Dark Knight Rises, directed by Christopher Nolan, stars Christian Bale, Michael Caine, Morgan Freeman, Anne Hathaway, Gary Oldman, Joseph Gordon-Levitt, Marion Cotillard, Josh Pence and Tom Hardy. It hits theaters nationwide July 20, 2012.