Written By: Dan Geer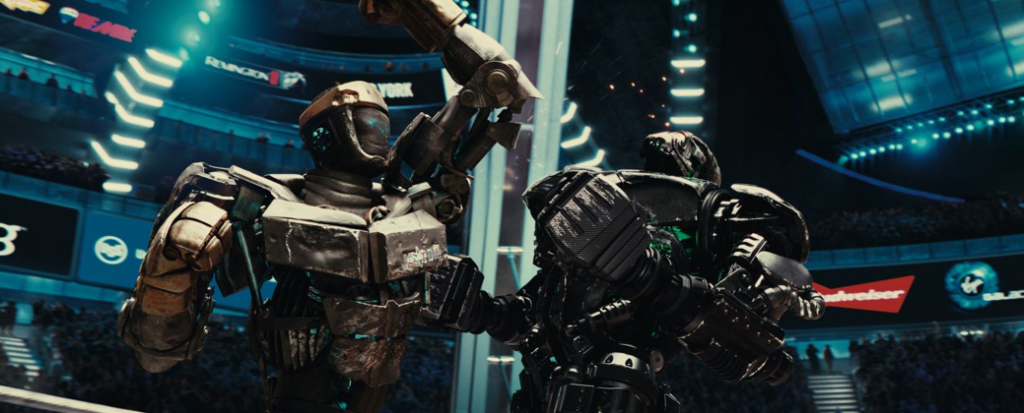 Shawn Levy's Real Steel is a science-fiction film loosely based on a Richard Matheson story about "Robot Boxing," which, of course, immediately conjures up cheesy thoughts of "Rock 'Em Sock 'Em Robots" in the mind of the typical cynical movie-goer. It simply cannot be helped, since the film's movie trailers magnificently showcase exciting boxing scenes between various mega droids (which even look like souped-up versions of the robots from the classic Mattel game) that overshadow anything we see dealing with the human characters in the previews.
But movie trailers can often be misleading. Underneath it all, this film is a whole lot more than just robots beating the living metal out of each other. At its core lies a true underdog story of a washed up boxer (played by Hugh Jackman) finding his way back to the ring, as well as his estranged son, through a single commonality. It is a classic story formula, repackaged with a bit of sci-fi flare, designed to hit every sappy, heartwarming note that a story of its kind is meant to hit – and it works.  "Rocky Socking Robots" might be a better way to look at it.
Hugh Jackman's character, Charlie Kenton, has quite a journey to go on in this movie. Having his top-notch boxing career replaced by the new Robot Boxing craze has taken its toll on him, leaving him to scrape by on scrounging together whatever robot he can get his hands on and entering it in various underground matches to hopefully win a few bets and earn some serious cash. Charlie's been rendered obsolete, and he's incredibly bitter about it. It turns him into a not-so lovable character at first (which Jackman pulls off brilliantly, by the way).
So needless to say, when an ex-girlfriend of his with whom he had a child ends up dying, forcing Kenton to possibly reunite with his 11-year-old son, Max (Dakota Goyo) – it pushes him into quite the unwanted predicament. It's the last thing Kenton wants in his life after all he's been through already, and his son doesn't want a relationship any more than he does. But Charlie sees an opportunity to obtain a ton of money when Max's aunt wants to take custody of him. By blackmailing the aunt's rich husband to not adopt Max, Charlie would then have enough money to buy a new and better robot to fight with in upcoming robot boxing matches. However, Charlie and his son are now stuck with each other, and Max finds out about his dad's blackmailing, which causes their relationship to get off to a rocky start (no pun intended there).
But that all changes when Max finds out about his dad's past boxing career and how he now fights with robots that any 11-year-old would absolutely love to have. As it turns out, Max is a World Robot Boxing (WRB) tournament enthusiast, and becomes determined to help his dad rise to the big time after they find a sparring robot in a junk yard that has a lot more going for it than simply taking punches from other, supposedly "better" robots. There's something special about this old bot, appropriately named Atom. Even though Charlie can't see the bot for anything more than what it was originally built for, Max discovers a certain uniqueness about it that, if properly utilized, could help Charlie Kenton rise to the top once more, and, perhaps, bridge the relationship between Max and his father.
It was a smart move by the writers to center the story primarily around these two characters. There's a reason the Robot Boxing matches are exciting in this film, and it really doesn't have much to do with how cool the bots look when they smash each other around the ring (although they are really cool). We're not really rooting for Atom simply because it's Atom, but rather because it's Max and Charlie's robot – and we care about Max and Charlie. We care about where these tournaments are leading them, both in Charlie's career, as well as their relationship with each other. If we didn't have this father-son journey to go on, the film would simply be that Mattel game, and we would wind up as mere spectators watching someone else play. We now have people we can relate to, and Hugh Jackman and Dakota Goyo do a tremendous job at keep the audience engaged throughout the entire journey their characters have embarked on.
Having said that, the designs of the robots, particularly Atom, are very life-like and feel as real as anything else in the film. With Atom's design, even though the face doesn't really have much of an expression, somehow we feel as if he's really alive (notice how I've just started to naturally refer to Atom as "he"). It seems like he's as much of a person as anyone else in the movie. Much of it has to do with Max's relationship with him and how he interacts with Atom, which is actually very reminiscent of Steven Spielberg's E.T. at times, and is quite effective (Spielberg served as executive producer on Real Steel). Perhaps it has everything to do with it. But I swear I saw life in Atom's tender, glowing blue eyes and stitched together smile, which is why the special effects and design teams should be commended big time with this film. Audiences even cheered for Atom at the screening I attended. Personally, I cared much more for this old robot than any of the alien robots in the Transformers films, and I really enjoyed those films for the most part.
Sure, in the end we can nitpick all we want about how the film "steels" (ha, ha, and ha!) from films like Rocky, The Champ, etc., making it not all that original of a story. But none of that really matters when the story is told well, contains characters you root for, and brings something new to the table (in this case, incredibly realistic robots beating each other to bits in a story where that kind of action is unexpected). I'd argue that, if you can get over the fact the core story has been done before, there's not really much fault to be found with the execution of the film itself – save for a couple of acting moments from Goyo that made me wince, and the fact that Evangeline Lilly's character, Kenton's girlfriend Bailey, isn't really given as much to do in the film as we would like.
The movie is a definite crowd-pleaser, with spectacular fight scenes and a compelling story (the fights were brought to life using the latest in motion-capture CGI technology and practical effects, and choreographed by boxing legend Sugar Ray Leonard). While it'll never rank up their with the likes of Rocky, the film's childlike sense of innocence and humor, along with its well-executed "rags-to-riches" feel-good story, make it worthy enough to sit alongside Rocky in your DVD collection. It's a fun film the whole family can get behind.
Rating:

(out of four)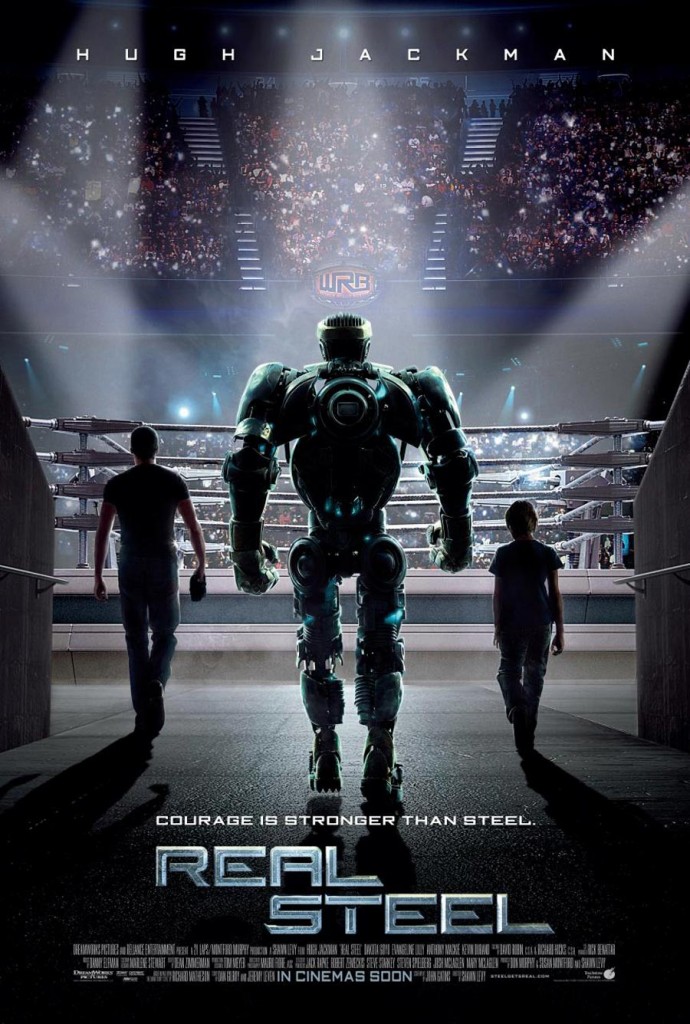 Related Articles