Source: Deadline | Posted By: Dan Geer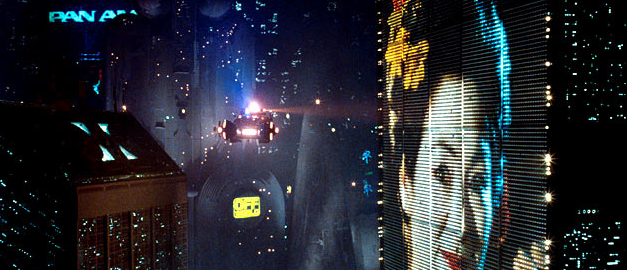 News hit today that, some time after revisiting his classic Alien universe with the upcoming film, Prometheus, Ridley Scott plans to direct a new installment of his other critically-acclaimed sci-fi film, Blade Runner. Yes, you read that right. BLADE RUNNER! Hit the jump for details! Update: More info has been released today regarding the film from the LA Times. Highlights are included below.
Deadline is reporting that it is not clear as of now whether this will be a direct sequel or prequel to the 1982 film, and that there is currently no script. It is also unknown whether or not Harrison Ford (or any of the other original actors for that matter) would return. So basically, we know nothing except that this is what Ridley Scott wants to direct next, and that it will be produced by Broderick Johnson and Andrew Kosove through Alcon Entertainment. Perhaps this will play out much like Prometheus, in that it won't be a direct prequel or sequel, but rather a film that "contains strands of DNA" from the original film it is inspired by.
Blade Runner was loosely based on the Philip K. Dick novel Do Androids Dream of Electric Sheep?, and was not a commercial success theatrically. But the film was well-made nonetheless and slowly gained a cult following after its initial run in theaters. Over time, it has become known as one of the greatest sci-fi films of all time.
Is a new Blade Runner film a good idea? It seems hard to believe, considering how self-contained the original film is, and how classic it has become. Some films, such as E.T. or Close Encounters of the Third Kind just shouldn't have a sequel, and many feel the same way about Blade Runner. I guess we'll know more once a plot synopsis is released. Until then, feel free to dream of (or despise) the possibilities!
Head on over to Deadline for the full article.
Update: The LA Times has scored some more details on the new Blade Runner film, including scripting, casting, approximately when we can expect to see the new film, and whether or not this will be a prequel or sequel.
The meeting between Andrew Kosove, Broderick Johnson and Ridley Scott:
Over the course of one meeting, they hashed out how a new film would look, how it could avoid seeming too similar to the many movies that have since paid homage to the original, and how different the new film should be from the original itself. They eventually decided it should stand as separately as possible.

"Everything Ridley does as a filmmaker is fresh," Kosove said. "I believe he sees an opportunity to create something that's wholly original from the first 'Blade Runner.' "

Scott, Kosove and Johnson left that meeting with a handshake deal, and then the lawyers and agents jumped in to work out the details.
Approximately when we can expect to see the film:
The new movie will sit on a timetable that's fast by big-budget Hollywood standards but perhaps slow for a hungry film fan. The soonest Kosove could see the movie beginning shooting is early 2013 — it would take at least 18 months to hire a writer, get a script in working order under Scott's guidance, cast the film and move into production.

Scott, who recently finished editing his new movie "Prometheus," could, in that 18-month period, direct one of several other movies he has in development and then return to shoot the new "Blade Runner," or he could make "Blade Runner" his next movie. Either way, that means a new "Blade Runner" wouldn't be in theaters until 2014 at the earliest.
Regarding if the film will be a prequel, sequel or total reinvention simply related to Blade Runner, and whether or not Harrison Ford will return:
What shape that film will take remains a question:  It could be either a sequel, a prequel, or even an inspired-by type of picture a la "Prometheus," which is related to but not closely affiliated with Scott's 1979 science-fiction hit "Alien."

One element that likely won't be in the new "Blade Runner" is Harrison Ford, who in the original played the lead, retired LAPD officer Rick Deckard.

"In no way do I speak for Ridley Scott," Kosove said. "But if you're asking me will this movie have anything to do with Harrison Ford, the answer is no. This is a total reinvention, and in my mind that means doing everything fresh, including casting."
So, it is pretty much what I thought it would be, in that this is a film that takes place in the Blade Runner universe, but is in no way a direct prequel or sequel to the original film. Ridley Scott doesn't seem to keen on prequels or sequels, so, just like with Prometheus, he is simply creating something entirely new within a familiar universe instead – which is totally cool in my opinion. I'd love to see the same happen with Star Wars.
Head on over to the LA Times for the full article!
Related Articles