Source: Deadline | Posted By: Dan Geer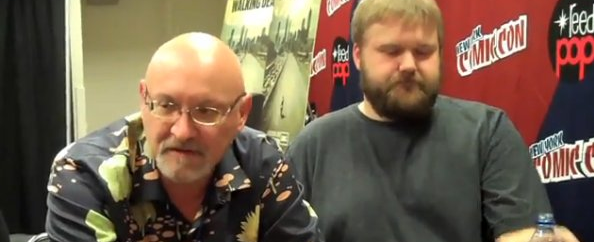 This news comes as a bit of a shocker, but Deadline is reporting that Frank Darabont has stepped down as showrunner for AMC's The Walking Dead. What is strange is that Darabont was present at San Diego Comic-Con's panel for the show just this past Friday alongside executive producers Gale Anne Hurd and Robert Kirkman (creator of The Walking Dead graphic novel). Read on for details. (Update: Glen Mazzara is indeed the new showrunner. Read on for the latest!)
No one seems to know the reasoning behind why Darabont has stepped down. There have only been rumblings of him never quite being able to adjust to producing a TV series on a daily basis. This does make sense, given that he has mostly done films and has only occasionally done some episodes for various TV projects. He has never committed to producing a TV series full time like with The Walking Dead. Having said that, stepping down so quickly after presenting the show alongside his fellow Walking Dead producers at SDCC is quite odd, and makes me wonder if he was thinking about it during that time, or if this was a sudden change of heart that occurred after the Con.
Talks are allegedly ongoing for Darabont to stay on in some capacity, just not as showrunner. It is unclear at this time if executive producer Glen Mazzara (The Shield, Life), who was Darabont's No. 2 on the show, will step up as the new showrunner. He does have showrunning experience, so this is probably likely to happen.
Personally, I have the feeling that, even though Darabont is stepping down, the show will continue to stay fresh and retain the quality it had in the first season. Production on the show has not been affected by this matter and is continuing as scheduled, so I say let's just wait it out and see how the next season plays out on TV this October. The series doesn't need Darabont in order to be great (although, it wouldn't hurt).
I am sure we'll hear more from the show's staff in the days to come, so stay tuned.
The Walking Dead, produced by Gale Anne Hurd and Robert Kirkman, returns on October 16th with 13 new episodes on AMC.
Update: Glen Mazzara is indeed the new showrunner, according to Deadline. Conversations are still ongoing as to whether or not Frank Darabont will stay on the show in some capacity. Stay tuned as more details emerge!