Source: ComingSoon.net | Posted By: Dan Geer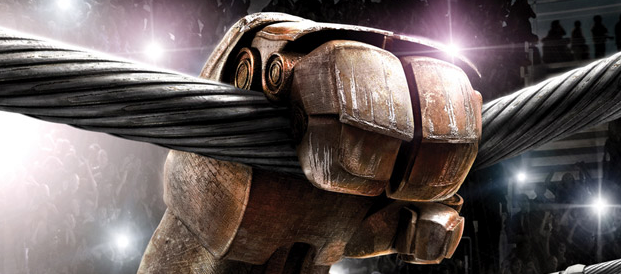 A couple of weeks ago, an awesome full-length trailer for director Shawn Levy's Real Steel made its way online. Now, a new teaser poster has been revealed over at ComingSoon.net, which obviously doesn't show much, but is really cool nonetheless and definitely worth a look. Hit the jump to check it out!
Official Plot Synopsis:
A gritty, white-knuckle, action ride set in the near-future, where the sport of boxing has gone hi-tech, "Real Steel" stars Hugh Jackman as Charlie Kenton, a washed-up fighter who lost his chance at a title when 2000-pound, 8-foot-tall steel robots took over the ring. Now nothing but a small-time promoter, Charlie earns just enough money piecing together low-end bots from scrap metal to get from one underground boxing venue to the next. When Charlie hits rock bottom, he reluctantly teams up with his estranged son Max (Dakota Goyo) to build and train a championship contender. As the stakes in the brutal, no-holds-barred arena are raised, Charlie and Max, against all odds, get one last shot at a comeback.
Click photo for larger, hi-res version over at ComingSoon.net:
Strange that the teaser poster would get released after the full-length trailer. Either way, I would love to have it hanging up at home somewhere.
Real Steel, directed by Shawn Levy, stars Hugh Jackman, Evangeline Lilly and Dakota Goyo, and will be released in theaters nationwide October 7, 2011!