Source: Back to Frank Black | Posted By: Dan Geer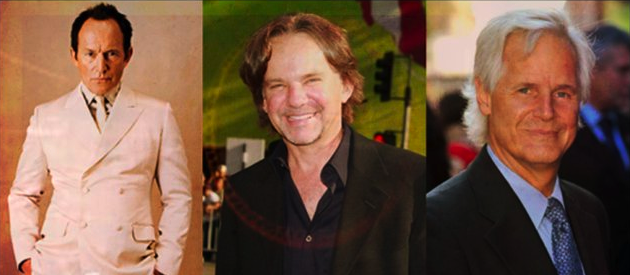 Last month, PCM brought you the news that "Back to Frank Black" (the online campaign dedicated to bringing back Chris Carter's hit TV series Millennium in the form of a feature film) was scheduled to bring together for the first time in over a decade Millennium lead actor Lance Henriksen, producer Frank Spotnitz and creator Chris Carter for an interview to discuss the possibility of a movie version of the show. Well, the interview has taken place and, in short, there is some hope to be had! Find out more after the jump!
In a nutshell, all three Millennium veterans agreed that if a film based on the series were to be made, it would work best as a television movie event instead of a theatrically-released film. Chris Carter specified that a theatrical film would probably get lost in the politics and complications of film making, and that a cable network like FX would work quite well to bring back Frank Black (Henriksen's character) since it is a network owned by FOX, which also owns Millennium.
This interview really was the make it or break it moment for the campaign, and it looks like something could come out of this, now that Henriksen, Spotnitz, and Carter have all talked it over with each other and seem very interested in pursuing the possibility of a Millennium TV movie. I highly recommend downloading the interview, as it was just a real treat to sit and listen to the three of them discussing Millennium after all these years. Very cool indeed! You can download it here.
The official press release has also been made available:
FOR IMMEDIATE RELEASE

February 4, 2011 (backtofrankblack.com) — In a landmark interview, the Back to Frank Black campaign has brought together a trio of key alumni from the television series Millennium for the first time in over a decade: creator and executive producer Chris Carter, co-executive producer Frank Spotnitz, and Frank Black himself, star Lance Henriksen. Together, the three discuss their strong interest in the return of the series as a commercially viable television movie event and consider the possible approaches to this long-awaited project, specifically citing an interest in targeting Fox cable channel FX. This exclusive interview is now available for download as a podcast via the campaign website and iTunes as well as an app for both the iPhone and Android platforms.

Series creator Chris Carter considers Millennium to be distinct against the canvas of current popular crime procedurals on television, noting, "I think that what we tried to do was give Millennium a depth beyond these procedurals." He states that the return of Frank Black would represent a "reconceiving of the original idea" carried out "on a grander scale" than the original series. Carter also hints that such a return might include characters from the X-Files universe: "One of the thoughts… was to use a character like Doggett [as played by Robert Patrick, 2000-2002] and do a cross-pollination with The X-Files." Such a move
would ensure further interest from X-Files fans and has the potential to offer a continuation of the story for some of that series' popular supporting characters.

Frank Spotnitz sums up the enduring appeal of the critically-acclaimed series by saying, "Millennium was about the darkness in the world, the darkness that Frank Black was trying to protect his family from, but that was inside of him as well. And the world now… has become so much more overtly dark and evil and frightening. The mood and ideas that were in Millennium have become more real and vivid to everyone, sadly. So, I do think it's even more in keeping with the times in which we live."

Lance Henriksen, eager to resume the role of hero Frank Black, affirms the views of both Carter and Spotnitz, commenting, "Most of the films that are being made dealing with all these kinds of things… are more of a personality versus principles. They're more egocentric: do battle, kill, murder, fight back with a gun rather than with the mind… I just think there is a place for us that is so poignant now… It's much more poignant now than ever."

Established by the fans of Millennium, Back to Frank Black represents a campaign dedicated to seeing the return of its unique protagonist—criminal profiler Frank Black, as portrayed by Hollywood actor Lance Henriksen—to the screen. The movement has gained support from throughout the entertainment industry, including active involvement from Henriksen himself. As a result of this interview, the campaign now has a renewed focus, direction, and fervor.

Millennium aired on the Fox network for three seasons between 1996 and 1999. It tells the story of Frank Black, a legendary forensic profiler gifted with the ability to see into the minds of the killers he seeks. Through Frank Black's work as a consultant with the FBI and the mysterious Millennium Group, the series offers a thoughtful exploration of the nature and manifestations of evil in the modern world. Millennium earned critical acclaim, as well as a number of awards and nominations, and remains highly regarded in the industry.

Chris Carter is best known as the creator and executive producer of The X-Files. With Ten Thirteen Productions, the production company he founded in 1993, Carter produced over 200 episodes of the hit series in addition to writing and directing a number of installments. He is the co-writer of two X-Files feature films and directed the most recent big screen outing, The X-Files: I Want to Believe (2008). Carter created and produced Millennium and scripted a number of its episodes.

Frank Spotnitz joined production on The X-Files as a writer. He went on to script over 40 episodes of the series, serving as director on two. During his time on the series, The X-Files earned a Golden Globe award for Best Dramatic Series and Spotnitz received three Emmy nominations, including Outstanding Writer for a Drama Series. Spotnitz co-wrote the story for The X-Files: Fight the Future (1998) and both co-wrote and co-produced The X-Files: I Want to Believe with Chris Carter. He served as co-executive producer on Millennium.

Lance Henriksen remains a celebrated and active genre actor with a long and distinguished career. Best known for his role as the android Bishop in the Alien film franchise, his movies have taken over $2 billion at the worldwide box office to date. Henriksen starred as Millennium's protagonist, Frank Black, a role that earned him three consecutive Golden Globe nominations for Best Performance by an Actor in a TV Series (Drama), one for every year the show was on the air.

Back to Frank Black's regular podcast, The Millennium Group Sessions, has interviewed a range of personalities, from lead actors, producers, and creators to guest stars. The podcast is available via iTunes and an app for both the iPhone and Android platforms and forms a popular outlet for the campaign with downloads from 45 countries around the world.

CONTACT INFORMATION

There are a number of ways to follow the Back to Frank Black campaign, with its home on the web to be found at www.BacktoFrankBlack.com. Visitors will find news, articles, media links and a wealth of information about the campaign and how to take part. Additionally, the campaign has a presence across a variety of online outlets:


Blog: Back to Frank Black
http://bringbackfrankblack.blogspot.com
A blog updated frequently with news and articles, providing the frontline of the campaign.

Facebook: BacktoFrankBlack Campaign
Facebook provides a busy hub for the campaign's community of followers where fans can interact with each other and follow the campaign.

iPhone: B2FB (Podcast App)
http://backtofrankblack.libsyn.com/webpage
The popular Millennium Group Sessions podcast is available for iPhone via an exclusive app. Back to Frank Black's podcast is also available for download on iTunes, for Android, and is distributed by Liberated Syndication

Twitter: back2frankblack
Back to Frank Black is also regularly updated on the Twitter social network.

Back to Frank Black is co-managed by James McLean and Troy Foreman. For all enquiries email them at info@backtofrankblack.com.
Related Articles