Source: DC Comics/Wildstorm/IDW | Review By: Dan Geer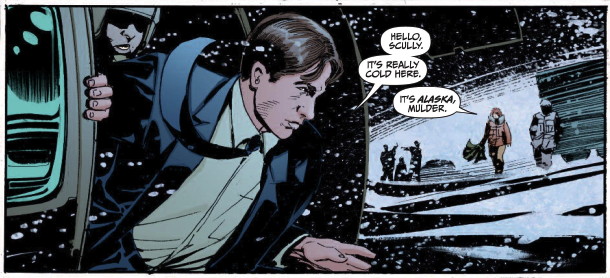 Anyone who knows me is well aware of my love for The X-Files. I grew up watching the show, and to this day it is still my pick for greatest TV series ever created. So when I found out there was going to be a crossover comic book series where FBI agents Fox Mulder and Dana Scully investigate the vampires from 30 Days of Night (originally a comic book series by writer Steve Niles and artist Ben Templesmith), the geek within me exploded with excitement.
In this story, co-written by Niles and "Tool" guitarist Adam Jones, Mulder and Scully are still working for the FBI investigating all things paranormal and are called out to Wainright, Alaska to examine a horrifying crime scene where sixteen truckers were found brutally decapitated and somehow hung atop a forty-foot pole. Of course, while Scully continuously tries to offer a rational explanation for what has happened, Mulder begins to have, well, other theories. As they investigate further, it becomes quite clear that it is no coincidence that these brutal murders are taking place in a region consisting of a long season of darkness.
Obviously, there will not be much of a mystery here to most readers. We know from the get-go that vampires are involved in these murders. The real reason to check out this comic series is because of how greatly it captures the spirit of a classic X-Files episode, all the while crossing over seamlessly into the the world that Niles and Templesmith established in their original 30 Days of Night comic series. The two franchises were practically tailor-made for each other, and it really shows here.
For fans of The X-Files, all of the characteristics that made the show so iconic remain in tact. With Mulder and Scully, their humorous banter is very much alive and well here, as well as the "believer/skeptic" dynamic that they shared every week on the series. When crossing these well-written characters with the vampires of 30 Days of Night, you have your typical "monster of the week" episode of The X-Files successfully translated to comic book form. Those who are familiar with the show might forget from time to time that they are actually reading a comic because of how well this fits into The X-Files universe.
Also, artist Tom Mandrake does a wonderful job bringing the two series together visually. It is quite clear with every frame that he has an incredible ability to help the reader feel immersed into the story – especially in illustrating the eerie landscapes of Wainright. Just about every scene is depicted with heavy shadows, creating a dark and ominous feeling of isolation as if one were right there, closed off to the rest of the world with Mulder and Scully. He just has a rougher, edgier style of drawing that really serves the story quite well here in that it gets the reader in the proper mood to enjoy the story.
Thus far, there really isn't much to dislike here in these first three issues for fans of The X-Files and/or 30 Days of Night (although the story might be more enjoyable as one trade paperback instead of six monthly issues). Not only is the comic a great tribute to both series, but the story also stands on its own – whether you were already a fan of the material or just discovering it for the first time. I think it is safe to say that Niles, Jones and Mandrake have all gotten off to a great start in bringing these two franchises together. Reading it really made me wish this were an actual episode of The X-Files – or, better yet, a movie. I absolutely cannot wait to read the rest!
Rating:

(out of four)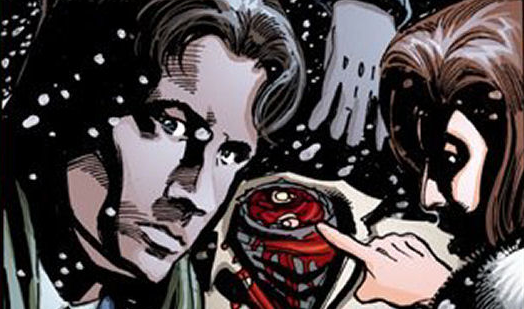 Related Articles