Source: HBO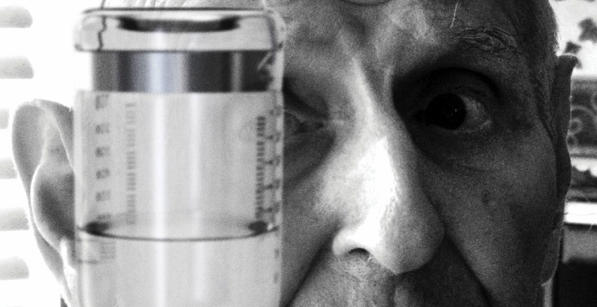 Last week, PCM reported on Gasland, the first film in HBO's series of documentaries they are airing Monday nights at 9 PM/8c all summer. Tomorrow, they air their next documentary, Kevorkian – obviously all about the extremely controversial "right-to-die" activist Dr. Jack Kevorkian.
However, this documentary does not just go into what we all already know about his history with assisted suicide, but also dives into his return to public life since his release from prison. I haven't seen it myself, but it definitely appears to be worth a look – even if you don't agree with Kevorkian's perspective. Hit the jump to check out the official trailer, press release, photos and more!
Official Trailer:
Official Press Release:
For Immediate Release
June 2, 2010

KEVORKIAN, AN INTIMATE AND SURPRISING PORTRAIT OF THE
CONTROVERSIAL "DR. DEATH," DEBUTS JUNE 28 ON HBO
AS PART OF HBO DOCUMENTARY FILMS' SUMMER SERIES

Dr. Jack Kevorkian, whose participation in at least 130 assisted suicides earned him the nickname "Dr. Death," courted controversy in the 1990s by arguing for death with dignity, and ended up being sentenced to a ten- to 25-year prison term for the 1998 death of Thomas Youk. Despite serving eight and a half years in prison, Kevorkian today insists, "I don't have regrets. In fact, I'm thankful."

Directed by Matthew Galkin (HBO's "I Am an Animal: The Story of Ingrid Newkirk and PETA"), KEVORKIAN paints an intimate and surprising portrait of this complex man when it debuts MONDAY, JUNE 28 (9:00-10:30 p.m. ET/PT), exclusively on HBO.

Other HBO playdates: June 28 (5:25 a.m.) and July 1 (1:00 p.m., 12:20 a.m.), 4 (4:00 p.m.), 7 (11:00 p.m.), 10 (12:15 p.m.) and 13 (4:45 p.m.)


HBO2 playdates: June 30 (8:00 p.m.) and July 6 (4:15 p.m.), 18 (2:30 p.m.) and 22 (4:40 a.m.)

HBO Documentary Films presents another weekly series this summer, debuting a provocative new special every Monday, June 7 through Aug. 9. Other June films include "Smash His Camera" (June 7); "For Neda" (June 14); and "Gasland" (June 21).

The documentary reviews Kevorkian's controversial, colorful career, closely following his life after his 2007 parole through a failed run for a Congressional seat in Michigan's 9th District. The documentary reveals "Dr. Death" to be a unique renaissance man: a provocative painter, composer, quirky inventor, bad moviemaker (even he dismisses his film adaptation of Handel's "Messiah" as "a mistake") and even worse golfer.

In addition to Kevorkian's musings about life, death and the future, the film includes conversations with friends, family, attorneys and journalists, revealing private details that shaped his world view. Those interviewed include: Geoffrey Fieger, the Detroit lawyer who became almost as famous as his client; renowned lawyer and Harvard professor Alan Dershowitz; Ruth Holmes, Kevorkian's archivist and jury consultant; his sister Flora Holzheimer; TV reporter Roger Weber; cellmate Dondalee McBee, who describes Kevorkian's prison rituals; former assistant Neal Nicol; and fellow Congressional candidates Joe Knollenberg and Gary Peters.

In his early work as a pathologist Kevorkian examined corpses to study the process of death and its relation to organ transplants. He recalls how the agonizing death of his mother from bone cancer, with her body withering away to a mere 80 pounds, inspired him to become "a one-man death counselor." Kevorkian was subsequently taken aback by the number of requests he received for assisted suicides, which he facilitated with a euthanasia device of his own making, later dubbed a "suicide machine."

Beginning in 1990, Kevorkian videotaped all of his interviews with his patients, relying on these recordings at his trials to prove his clients' suffering and underscore the justness of his cause. Then, he made what many considered a self-destructive misstep, allowing "60 Minutes" to air one of his tapes in the belief he could legalize assisted suicide once and for all. Hoping to bring the issue to the Supreme Court, Kevorkian chose to act as his own defense attorney, which ultimately backfired.

In prison, Kevorkian happened upon a book about the Constitutional Amendments, and was struck in particular by the Ninth Amendment, which says, "The enumeration in the Constitution, of certain rights, shall not be construed to deny or disparage others retained by the people." Though the amendment is considered vague by many – Harvard Law School professor Alan Dershowitz told Kevorkian that Supreme Court Justice Scalia declared it "a joke" – Kevorkian interpreted it to protect euthanasia, among other activities, saying, "Dying is not a crime."

At 79, out on parole, and frail but still brilliant, Kevorkian's newfound devotion to the Ninth Amendment fueled his spirited campaign for Congress and his fight for the rights he feels everyone should possess, including, of course, the right to die. Kevorkian didn't accept contributions or buy any advertising for his campaign, nor was he expected to be competitive. However, some feared his campaign might steal enough votes away from the Democratic challenger to allow the Republican incumbent to retain his seat, a prospect that didn't bother him. "They're both crooks," Kevorkian declared dismissively.

KEVORKIAN is the story of a man whose compassion and vision have largely been misunderstood, perhaps, at times, even by himself. One journalist compares him to "an Old Testament prophet. He's very disagreeable, hard to take, nobody you want over for a weekend, but somebody who tells us some unpleasant truths."

Producer Steve Lee Jones began visiting Kevorkian in prison in 1995. After Kevorkian's release, Jones and director Matthew Galkin spent a year filming his life. Jones also served as an executive producer on "You Don't Know Jack," the HBO Films biographical drama that starred Al Pacino as Kevorkian and debuted in April.

Matthew Galkin directed and produced two previous documentaries: HBO's "I Am an Animal: The Story of Ingrid Newkirk and PETA," about the animal rights organization and its enigmatic founder, named Best Documentary at the 2007 Hamptons International Film Festival; and "loudQUIETloud: A Film About The Pixies," about the cult alternative-rock band and their 2004 reunion tour. He also produced the HBO documentary series "Family Bonds," about a family of Long Island bail bondsmen, and served as co-executive producer of the reality series "Kimora: Life in the Fab Lane."

KEVORKIAN is directed by Matthew Galkin; producers, Steve Lee Jones and Michael LaFetra; editor and co-producer, Tim K. Smith; executive producers, Matthew Galkin, Scott Altomare, Troy Powers, and Stephen A. Markey III.
Photos (Click to view hi-def versions):
Interview with Director Matthew Galkin:
[Q: Question; MG: Matthew Galkin]
Q: You're mostly known for music documentaries and for producing pop culture reality shows.  What inspired you to make a jump like this, to such a controversial character like Dr. Kevorkian?
MG: Making a jump from music documentaries to Kevorkian was actually tempered by the fact that a couple years ago I directed a film for HBO about Ingrid Newkirk and People for the Ethical Treatment of Animals (PETA).  And if you're familiar with their work, they're a highly controversial organization – certainly effective in advocating for change – and Ingrid is a very, very fierce myopic type person who will go to the ends of the earth and pretty much any extreme to advocate on behalf of animals.  The producers of the Kevorkian film had seen that movie and had hired me on the basis of that film.  So, I didn't go from directing a film about the Pixies or directing a reality show about Kimora Lee Simmons to doing a film about Jack Kevorkian, there was definitely an intermediate step.  That being said, I've always found him fascinating.  So it's not out of the realm of possibility that I would've gone from directing a film about the Pixies to doing a film about Kevorkian.  It just didn't happen that way.
Q:  How long did you film for?
MG: We filmed with Dr. Kevorkian for about a year.  Yeah roughly a year, we were pretty much shooting and editing at the same time so we started shooting in April of 2008 and we were done with the whole film by the middle of the next year – mid 2009.
Q:  Was this already being done for HBO, and if not how did you know that HBO would be the right place to showcase this documentary?
MG: The film was independently financed by a company called 'Foundation Films' in Los Angeles and we basically made the movie that we wanted to make – to the frame – and then it just so happened that the main producer Steve Jones was also one of the producers on the Al Pacino scripted project that HBO was developing.  And that relationship in conjunction to mine – I have a very longstanding relationship with HBO – I had directed 'I am an Animal' which was the PETA documentary for them and also had been the producer of 'Family Bonds' which was a documentary series that they did in 2004, so I've known Sheila Nevins and Nancy Abraham for years.  They were the first people we showed the film to when it was complete and they loved the film.  They responded immediately and it also worked perfectly because they had the Al Pacino project, so they thought that there would be a sort of perfect yin and yang to the project, and they acquired it.  So it worked out well on all fronts.
Q: Everyone was very happy?
MG: Everyone seems very happy (laughs).
Q:  What was your biggest challenge in making this film?
MG: The biggest challenge in making this film was figuring out how to tell Jack's entire story cinematically – and do it within a two-hour framework.  His life is so rich and complex, even if it didn't have a modern day component – which this film does – it would still be a challenge to deal with his back-story.  But because he was running for congress and we had the whole congressional run, we knew that was going to become the forward moving spine of the film.  Secondarily, the biggest challenge was to move both forwards and backwards in the film – the structure of the film does that – it basically uses the congressional run as a way to explore Jack's entire life and his work and some of the patterns of his decision making.  We had a feeling pretty early on that he wasn't going to win the congressional race, then it became a practice of observing his decisions and figuring out why he was doing certain things during the race.  Those had a sort of eerily similar pattern to decisions he had made during the 90s during his battle for euthanasia. Ultimately it all sort of dovetailed beautifully, but the challenge was balancing the past and the present.
Q:  How long did it take you to get to a place where he would open up?  Was he open about allowing you to come into the music studio?
MG: Oh yeah.  Jack has multiple facets – all of which are fascinating – and some work in harmony with one another and some are at total odds with each other.  Pretty much within the same day he can be totally selfless and completely self-absorbed.  You would imagine that would be difficult to do, but he somehow manages to do it all.  As far as his Thomas Edison tinkering qualities, he is totally fascinating and a lot of people don't know that he spent the 60s coming up with different ways of transfusing blood or checking when a patient is truly dead so they can use their organs for transplants – I mean potentially very important medical research.  He also invented hats, he made movies, he paints, he's a musician, what people often times don't realize, or forget, is that the assisted suicide machine – the Mercitron – was an invention.  It was just another thing that Jack invented, and that happened to catch the public's imagination, and then it became very clear there was a need in our society – that he was fulfilling that need.  But it really started as a 26-dollar erector set type thing that he kind of scotch taped together so that someone could use this to help kill themselves.  Fascinating really.
Q:  How long did you film?
MG: We filmed about a year.  We filmed Jack for about a year.  And, to backtrack also your question about 'was he open?' – he was very open about some stuff right off the bat.  Certainly talking about the 9th amendment, he was incredibly open because that was a platform that he felt very passionately about.  Anything that related to his congressional run he was very open with.  It wasn't until we got more into his personal life and the decisions that he made over the course of his life as far as whether to get maQied or have children, which he chose not to do…
Q:  He cites that as one of his regrets…
MG: He is regretful I think, I mean it would be hard to look back on your life at 81 years…he's got a lot of things to pass on.  He's got an entire lifetime full of knowledge and I'm sure that pains him at some point not to have some sort of heir to keep the family name going and continue his work.  Because he felt very strongly about his work in his later life.
Q:  Did he have or does he have an apprentice – is there someone that will caQy on his work in this realm?
MG: There are organizations like 'Final Exit' that do this kind of work, certainly differently than Kevorkian.  No, he doesn't have – he doesn't do the work anymore since he went to prison.  And he doesn't have anyone that is continuing, to my knowledge.  He has people that worked with him in the 90s like Neal Nichol, but Neal doesn't do this kind of work anymore.  So this singular vision of the world may end when Jack dies.
Q:  I just want to know if this experience, working on this film, has changed your own view of mortality?
MG: my view on mortality has not changed at all working on this film.  I believed in the cause that Jack was advocating for, certainly.  I definitely think that it's anyone's right to do what they want with their body, and certainly it's their right to choose how they would like to die – and to do so with dignity.  My views on Dr. Kevorkian himself, they certainly changed from the beginning of this process to the end – and that's not to say they changed for the worst – but I sort of entered in with a pretty 'surfacy' knowledge of what he had done and what he stood for, but I certainly have a far greater understanding of what he's about.  And I hope that is ultimately the take away for the audience, a lot of people think they know the story of Jack and think that they know what he did in the 90s, but there is just so much more and there are so many more levels to the story.  That is the hope – that people will come away with a greater understanding of a very complex man.