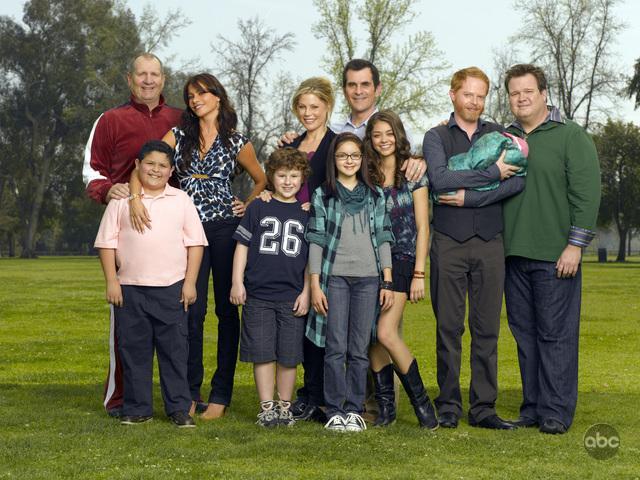 Need a little laughter in your life today? Well, how about a little sneek peek at ABC's new series debuting this season, Modern Family? Entertainment Weekly calls it "The fall's funniest new comedy."  The series premiere is coming up this Wednesday, Sept. 23rd at 9/8c on ABC, and stars Ed O'Neill (Married with Children), Julie Bowen (Boston Legal) alongside a very talented ensemble cast. Click "Read More" for exclusive video clips!
The official press release summarizes the pilot episode as follows:
"Pilot" — Today's families come in all shapes and sizes, and that is very evident in Jay Pritchett's very full and very blended family. Jay and his new gorgeous and much younger wife, Gloria, are happily married and getting accustomed to their new life together. But when her pre-teen son develops a crush on a 16-year-old girl, it becomes apparent that Jay and Gloria may have some generational and cultural gaps to bridge. Jay's grown daughter, Claire, has a family of her own — three kids and a husband, Phil, who is practically a giant kid himself. Things get a little tense when their teenage daughter, Haley, brings a boy home and Phil tries to adopt the cool, hip dad approach. Then son Luke misuses of his BB gun, which results in Phil and Claire turning it right back on to him. Jay's other grown son, Mitchell, is in a committed relationship and has just adopted a baby girl from Vietnam with his life partner, Cameron. They're going through the joys and anxieties of bringing a baby home for the first time, but Mitchell still has the daunting task of introducing their new addition to the whole family.
It is difficult to predict whether or not this series will be a hit. I suspect people have been itching to see Ed O'Neill do TV comedy again since his role as Al Bundy in Married With Children, so this will probably get a lot of viewers for the pilot episode. Of course, in this day and age, it is harder to get a hit TV show if it doesn't start off right from the get-go. The industry is a lot more cut-throat than it used to be, when shows were allowed time to gain a following. That, and it seems like so many new TV shows are popping up left and right these days, so it has become much harder for TV viewers to pick and choose which shows they want to devote their time to – even with the invention of the great DVR device.
From the perspective of someone who does not watch a lot of comedy on TV but enjoys a good laugh once in a while, some of these clips below made me laugh quite a bit, while others just didn't really do it for me. But, it looks like they have enough good material on their hands to keep fans of TV comedy wanting to tune in every week for the most part, so this could very well be a successful new series. And, of course, I will have to see more of the series to really form a more accurate opinion.
Here are the exclusive video clips:
"Modern Family" stars Ed O'Neill as Jay Pritchett, Julie Bowen as Claire Dunphy, Ty Burrell as Phil Dunphy, Sof'a Vergara as Gloria Delgado-Pritchett, Jesse Tyler Ferguson as Mitchell Pritchett, Eric Stonestreet as Cameron, Sarah Hyland as Haley Dunphy, Nolan Gould as Luke Dunphy, Ariel Winter as Alex Dunphy and Rico Rodriguez as Manny Delgado.
For cast bios and photography, visit the "Modern Family" showpage at www.abcmedianet.com in the Primetime section.
Update: I have now seen an advanced screening of the pilot episode of Modern Family (special thanks to Brian Gross from BLT), and I had pretty much the same reaction as I did from watching the above video clips. Overall, some of it was funny, some of it not so much. Again, I am not someone who typically watches comedy programming on TV, so people who do may find that this is totally their cup of tea. I would being lying if I said I didn't laugh a lot during this episode, especially during the scenes with the "cool" dad character, Phil (Ty Burrell), who is anything but cool in the eyes of his kids.
Even though I'm not a big TV comedy fan, this is something that I might tune in to and watch once in a while. For you TV comedy viewers out there, you just might find yourself tuning in every week.
Once again, it premieres this Wednesday at 9/8c on ABC.