Written by: Dan Geer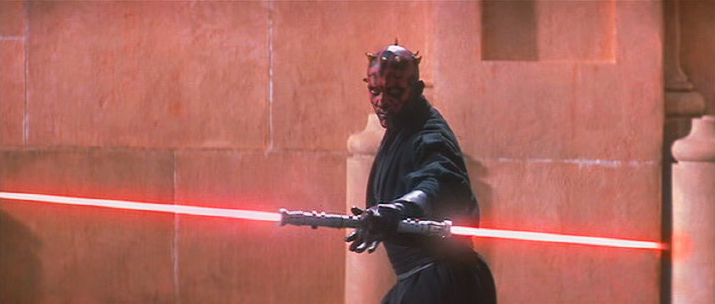 A Long Time Ago, in a theater not so far away…
…a certain movie was finally being released that had been anticipated for 16 years. It was the most anticipated film of all time. Yes, of course I'm referring to Star Wars Episode I: The Phantom Menace. May 19, 2009 marks the 10th Anniversary!
I think we all can agree that the anticipation leading up to the film's release was one of the most memorable times in movie history, and the most fun. So, in honor of the 10th Anniversary of The Phantom Menace, I just wanted to list the top 10 memories leading up to the film's release. This is a combination of things I experienced as well as what fans experienced as a whole leading up to May 19, 1999.
So for your enjoyment, here are the top 10:
10. Fan Discussion/Speculation
This was one of the most fun things about looking forward to the prequels, and also the greatest downfall. On the one hand, we all share so many great memories of speculating what the prequels would be like ever since George Lucas said he would eventually go back and do the backstory of Darth Vader. We had some stuff to go on from what Lucas had already revealed, but there were so many gaps to fill and fans very much enjoyed filling in those gaps in their own heads.
On the other hand so many people built up for over a decade what they thought the story should be that it became their own canon. So when Lucas basically shot much of our ideas down many were let down and hate The Phantom Menace to this day. I realize this isn't the only reason people hate the film, but it is one of them. I wasn't let down in this area so much since I didn't really know much of what Lucas had revealed in the past and what I did know was all Episode III territory. But other people pretty much had the entire Prequel Trilogy scripted out their own way instead of keeping an open mind that it may not be completely what they expect. I was surprised, however, when I researched what Lucas had in mind all those years ago for the prequels and how much of his ideas for Episode I were retained for the film.
We all had a great time speculating though, and that's what counts in the end. But I think that fans, as well as Lucasfilm, were much more careful after Episode I's release about building these films up to be the Second Coming. The marketing was toned way down afterwards and I think most people enjoyed II and III much more, since expectations were down to normal (although it still seems like dissing the Prequels is embedded into pop culture).
9. The Announcement
We all heard for years that George Lucas wanted to eventually do the backstory to the original trilogy dealing with the story of Anakin Skywalker becoming Darth Vader and the history of the Empire. On October 4, 1993 it was announced in an article in Variety Magazine that Lucasfilm planned on producing three new Star Wars prequels, although the article indicated that Lucas would most likely not direct them (of course that changed later on). This was shortly after the release of Jurassic Park, which is the film people generally site as the one that convinced Lucas that he could realize his new Star Wars films the way he always envisioned. A little over a year later on November 1, 1994 he began writing The Phantom Menace. Production did not actually begin until 1997 when the Special Editions of the original Star Wars trilogy were released.
We were all stoked when we heard the news.
8. The Special Editions
The reason the 1997 Special Edition of the original Star Wars trilogy is on this list is because it was the temporary fix we got between the original editions in the 70s and 80s and the prequels. These new editions were essentially new Star Wars. We got new footage edited into the old films that we had never really seen before. Special effects were enhanced, scenes were added/edited, etc. They became a whole new Star Wars experience for fans, much like what the prequels would be. In a sense, it gave us a glimpse of what Lucas was going for with the prequels. Some of it was good, some of it not so good. But it was new and we drank it all in to get hyped up for the prequels.
7. Food Marketing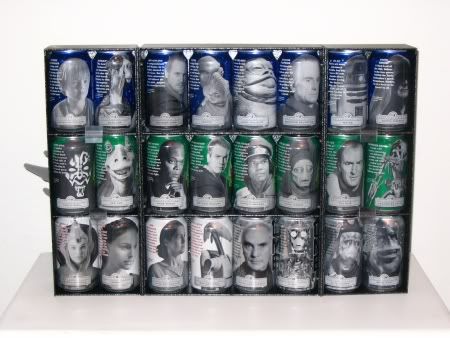 Tricon Global Restaurants, the parent company for Taco Bell, Pizza Hut and Kentucky Fried Chicken had a huge Star Wars marketing campaign. I loved the commercials for it. I really only got stuff from Taco Bell, and I only had one of the toys, the Darth Maul poster (which was a part of a six poster "puzzle" that all fit together to form one big poster image), cup toppers of Sebulba and Anakin, and a few of the "Defeat the Darkside" game medallions that you could use with a playing board to win various prizes. Pizza Hut and KFC had similar things you could purchase and/or win.
Pepsi also issued a 24 soda can collection with pictures of various characters from The Phantom Menace on them, as well as on 16-oz and 2-liter bottles. Doritos and Lays chips also did this. I can distinctly remember working at "Quality Dairy Co.," the Lansing, MI equivalent to 7-11, storing away the Pepsi cans and bottles for recycling. We didn't have fancy recycling machines. I hated my job at the time, but seeing the Episode I characters on the cans brought a smile to my face every time I got recycling duty. I would quote lines from the film in my head as I would store them in their appropriate places. Yes, I'm a geek, and no, I did not take any.
Pepsi also had cardboard stand-ups. QD Co. had an Episode I Obi-Wan Kenobi stand-up that people could win by entering their name into a drawing. I entered mine, but did not win it. Later on, however a friend bought me a stand-up of Darth Maul so I wasn't bummed anymore because Maul was way cooler.
6. Star Wars Celebration Convention

I was not at this convention, but I have been to other Celebrations and have heard the horror stories of "Mudstock." Lucasfilm and the Star Wars Official Fan Club came together to create this memorable (and eternally rainy) Convention which occurred from April 30th-May 2nd 1999 in Denver, Colorado. Despite the Colombine shootings occurring two weeks prior, it was decided to proceed with caution and continue with the event. It was a huge success despite the constant downpour of rain and has since then spawned three more U.S. Celebrations (which were thankfully indoors), as well as one in Japan and Europe. It had Q&A panels, Celebrity autograph signings, vendors selling merchandise, and of course thousands of fans! These conventions are the only place in the galaxy where fans came come together and feel completely right at home. What a great way to hype up the new Star Wars film! Click here to see StarWars.com's compilation of articles, soundbites, pictures and quotes from Star Wars Celebration! Party like it's 1999!
5. Midnight Madness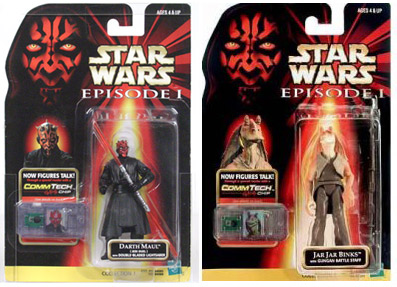 If there was one organized event that was happening that came close to being as big as the premiere of the film itself, it was the release of the toys, which happened the day after Star Wars Celebration. What a great way to extend the Convention experience for those in Denver, CO! I hadn't actually heard about this at the time, but if I had I would've been there I think. As soon as the doors opened at 12:01AM on May 3, 1999, floods of people (mostly grown men) rushed into Toys R Us stores all over the country to grab as many Phantom Menace toys (particularly action figures) as they possibly could. People literally spend hundreds, if not thousands of dollars to have the figures from the first new Star Wars movie. It was insane.
The 3 inch Darth Maul Jedi Duel action figure was the most sought after toy. I remember hunting everywhere for it. I eventually found it at a specialty toy store called "Richie's Playhouse" in Dewitt, MI that carried toys that you couldn't find anywhere else (except online). Keep in mind, this was when buying online was not commonplace (or at least before I started shopping online). They carried all sorts of vintage figures as well. I probably spent at least $10.00 on Darth Maul since that store carried Episode I toys that not many other stores had, and it was one of the higher demand figures. Since then, I collected a bunch of figures from that line that I still have in the package (that probably will never be worth anything significant).
To this day, however, I still don't have a Jar Jar Binks…
4. The Books
On April 21, 1999 the Terry Brooks authored novelization of Star Wars Episode I: The Phantom Menace meant one thing: We could know the story before the film was released! Many of us chose to wait until after the movie came out to read it, other did not. And then there were people who bought the book and tempted themselves by reading some of it but not the whole thing. Whatever we chose to do, there was one thing that was great about it and that was that we could say that we held the official story for the new Star Wars film in our hands. And we could choose from four different covers with a different character from the film on both the front and back for the hardcover!
What was great about the book was that it filled in the gaps for the things the movie didn't (or couldn't) convey. It is always better to be able to dive into what the characters are thinking, which is something the movie medium cannot do nearly as well. Many hold the novelization to be better than the film itself.
We also cannot forget the Dark Horse graphic novel of the film written by legendary screenwriter Henry Gilroy and illustrated by Rodolfo Damaggio and comics legend Al Williamson. Released on May 3, 1999, fans could actually see illustrations portraying what would be in the film before the movie's release and get yet another glimpse into what the film would be like.
Lastly, The Episode I Visual Dictionary. I love the Star Wars Visual Dictionaries. We could gain new insight into all sorts of characters, weapons, gadgets, vehicles etc. from the films that we maybe didn't know before. So the release of the Episode I Visual Dictionary was quite an event for me personally, especially when the film hadn't been released on video or DVD yet. My fanboy cravings for Episode I after I had seen the film would be temporarily fixed when reading this book until I could watch the film at home.
3. Lining up for the Film
On March 24, 1999 20th Century Fox announced that for the first two weeks of the film's release, there would be no advanced ticket sales, due to people wanting to buy out whole theaters, inevitable scalping, etc. So, at least a month before May 19th, 1999, fans camped out in front of movie theaters across the country to see the first Star Wars film in 16 years. People organized lines, and many of them raised money for various charities. People from all over showed up to wait in line, and many people made friendships while waiting that still go on today. It was one of the biggest bonding experiences for geeks.
I was not a part of this whole line up thing. I wish I was. My memory of this event was getting a wristband a few days in advance which would allow me to purchase my ticket when they did go on sale. I had friends of mine wait in line for me for the wristband. To be honest, I never really was a huge fan of Star Wars until after the release of Episode I, although I have always enjoyed the films. Ever since then, I was in line for the midnight showings of the remaining prequels, and have attended two Star Wars Celebration conventions. Probably the closest experience I had to waiting in line for Episode I was when I waited in line at 1:30AM to see George Lucas at a 10AM Q&A panel at Star Wars Celebration III. That was probably the craziest experience of waiting in line I have ever had. It was cold, rainy and chaotic. But well worth it.
2. The Movie Trailers/TV Spots and the Soundtrack

I can't tell you how many stories I've heard about people paying to see a movie that had the teaser for The Phantom Menace playing before it who didn't even stay for the movie they paid for. Or, if they did, they don't even remember what movie it was. They only remember the teaser. That's how big this movie was.
And it was, and still is, one of the greatest teasers of all time. The second trailer was also wonderful. Any new footage from the new Star Wars movie was like those kids in 1977 getting the Early Bird Certificate Package for Christmas. It wasn't quite what we wanted yet, but it was plenty to wet our appetites. Any time we saw a new TV spot or whenever we caught the trailers in the theater or on TV was an exciting moment. Probably the best memory I have is when the teaser premiered on Entertainment Tonight (later on before the film's release, they had a segment on every weeknight for 5 days devoted to the movie).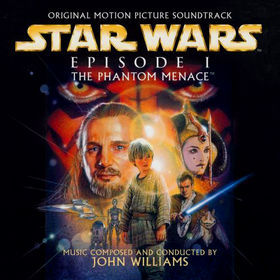 Let's not forget the official soundtrack, released on May 4, 1999! Even though it spoiled what happened to Qui-Gon Jinn with tracks being titled "Qui-Gon's Noble End," "The High Council Meeting and Qui-Gon's Funeral," etc., it was so awesome to experience new Star Wars music. I personally prefer the Ultimate Edition released the following year, but that was after the movie came out so I can't talk about that here! I had to include this release along with the release of the Trailers because they are both a part of experiencing aspects of The Phantom Menace that were taken right from the film before its release. Seeing new Star Wars is only half the experience. Hearing the new John Williams music is the other half!
1. The release of Star Wars Episode I: The Phantom Menace
This, of course, had to top the list. Regardless of your opinion of the film, the fact that a new Star Wars film finally was released in theaters to continue the saga was just an amazing experience. Seeing a new opening crawl, watching the Duel of the Fates, seeing Anakin meet Obi-Wan… ahh the memories. I think many of us can say that we saw the film multiple times in the theaters before we finally realized what the movie was actually about! We were all just so caught up in the fact that we had new Star Wars characters, vehicles, planets and plots adding to what has been a major part of pop culture and our fanboy lives for 16 years! We were just too busy having so much fun. And that really is the point of Star Wars.
In the end, whether you liked the film or not, we can all look back and remember the good ol' days of waiting for a new Star Wars movie. Personally, I enjoyed the movie and thought the prequels got progressively better with each new film. I was definitely not disappointed by it (check out Superman III if you really want to know what it feels like to be disappointed). It was one of the greatest events of my life, and I'll never forget it.
Update: TheForce.Net posted a link to this article! Gotta love TF.N! Also, The Star Wars Prequel Appreciation Society has posted a link as well. Thanks a lot guys!
Notable Mentions:
Some people have commented about me leaving some things out. While these things I'm about to list are not in my personal Top 10, they are memorable for many people. If this were a top 12 list, they'd be included. But here they are:
A. The Teaser Poster
This is the one with Anakin on Tatooine with his shadow resembling that of Darth Vader's silhouette. What a cool poster. So simple, and yet it said so much about this innocent kid's destiny.
B. Star Wars Insider Magazine

The prequel updates in particular were how many fans managed to make it to the premiere of The Phantom Menace. I never was a subscriber until after the film's debut, so this wasn't a part of my memories of anticipation. But it definitely was a part of so many others. And of course the many articles with cast members from the film I'm sure must have been wonderful primer to get fans excited for the film's release. Lastly, full color photos!!!
Update 2: I forgot to mention that there is a great book out there called Anticipation: The Real Life Story of Star Wars Episode I: The Phantom Menace that documents in great detail the hype surrounding the film and its impact on culture and the history of cinema. It's a great book! Click here to buy it!